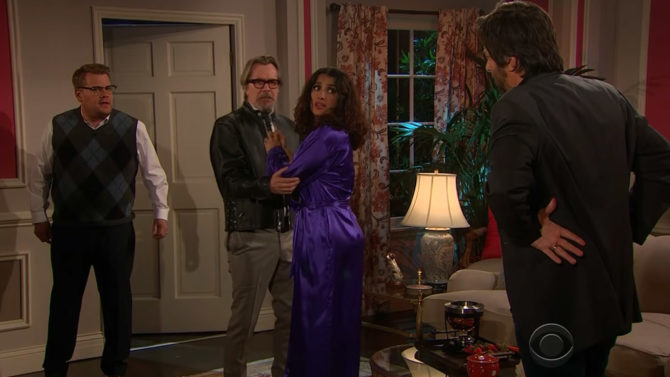 Late Late Show host James Corden, along with guests Salma Hayek, Ray Romano and Gary Oldman, staged an epic soap opera scene with dialogue based on lyrics from Justin Bieber songs.
"If I was your boyfriend, I'd never let you go,"  Romano's character says to his lover, played by Hayek. "Chillin' by the fire, eatin' fondue," he continues, until their romantic date is interrupted by Hayek's second lover, Corden.
"Baby baby baby baby, no! We're just friends," Hayek explains. "Is it too late now to say 'sorry'?"
"Girl, quit playin'," Romano responds.
"Just friends? You nod your head yes, but you want to say no," Corden says to Hayek, referencing Bieber's "What Do You Mean?".
Hayek tries to smooth things over and at one point Romano accidentally quotes One Direction lyrics, but redeems himself with, "I will never say never!". Oldman enters the room as yet another one of Hayek's lovers. "Baby, I've been thinking about ya. When I was 13 I had my first love," he says, quoting Bieber's "Baby."
Hayek's luck changes when all three men decide to leave Hayek for good.  "Love yourself," Romano quips, followed by Oldman who yells, "I'm better sleeping on my own."