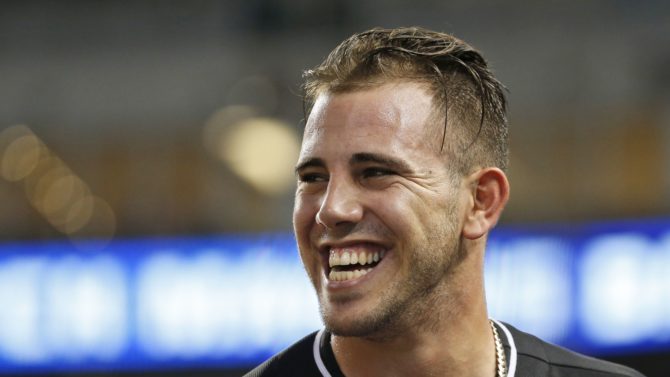 The South Florida community and baseball fans are mourning the death of Miami Marlins pitcher Jose Fernandez who died on Sunday. Fish and Wildlife Commission public information officer Lorenzo Veloz told CNN the body of the 24-year-old and two other males was found after their 32-foot boat was discovered crashed near Miami Beach. The Coast Guard discovered the crash site at 3:15am.
Veloz added that the victims were between 24-27 years of age. He also said that alcohol is not believed to be a factor and no illicit drugs were found on board.
According to USA Today, the boat was travelling at significant speed when it hit rocks.
Fernandez defected from his native Cuba when he was 16-years-old alongside his mother Maritza Fernandez. Various outlets are reporting that Fernandez saved his mother from drowning during their journey to the United States. He grew up in Tampa before getting drafted by the Marlins in 2011.
The Miami Marlins released a statement about the loss of Fernandez via Twitter on Sunday morning. They also announced their match against the Atlanta Braves has been canceled.
"The Miami Marlins organization is devastated by the tragic loss of José Fernández. Our thoughts and prayers are with his family at this very difficult time."
According to Fernandez's official Instagram account, he had a baby on the way with girlfriend Carla Mendoza. He posted the photo of the brunette with a growing baby bump just five days ago.
"I'm so glad you came into my life. I'm ready for where this journey is gonna take us together. #familyfirst"
The identity of the other two men who died with Fernandez has not yet been released. Our thoughts and prayers are with his loved ones during this difficult time.