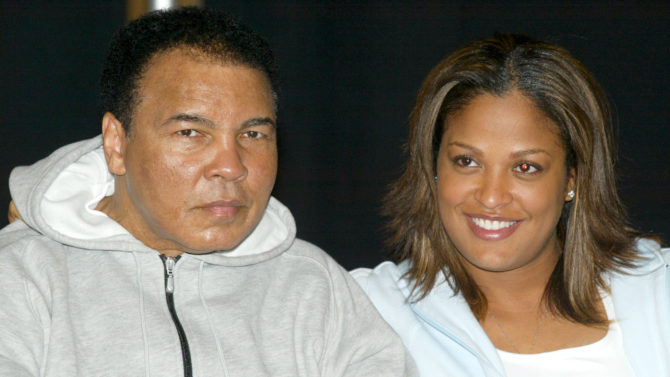 The world is in mourning after the loss of legendary boxer Muhammad Ali on Friday, at the age of 74. On Monday, Laila Ali, daughter of Ali and his third wife Veronica Porsche-Ali, made an appearance on the Today show, where she opened up about losing her father who suffered from Parkinson's Disease since 1984.
"It was time for him to go," said the 38-year-old former boxer to Matt Lauer. "I know he's in a better place now and he's talking again and moving again and doing all the things that he couldn't do in his body. I'm happy for that, even though I will miss him deeply."
She added during an appearance at ABC's Good Morning America, "I can say that I'm obviously really sad, but I've been sad for a long time just watching my father struggling with Parkinson's disease. You know, you hold your head up and you say, 'Yeah, he's doing great,' but I felt like he was trapped inside of his body. So I have comfort knowing that he's not suffering anymore."
Laila has been sharing family photos and details about the memorial service on her verified Facebook account. On Sunday, she posted a photo of her dad with her 8-year-old son Curtis Muhammad Conway in a Louis Vuitton ad. Fans instantly acknowledged how much grandfather and grandson look alike.
There will be a procession and funeral for Ali —born Cassius Marcellus Clay— on Friday, June 10, beginning at 9am in Louiseville, Kentucky. The service will be airing live here.