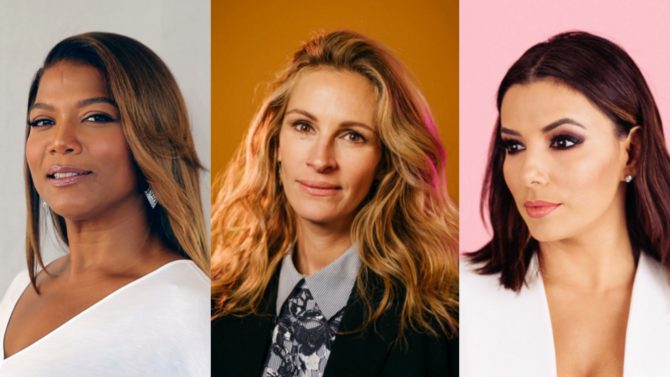 Julia Roberts, Eva Longoria and Queen Latifah are among the actors featured in The New York Times article titled "What It's Really Like to Work in Hollywood* (*If you're not a straight white male.)" The stars candidly talked about what it's like to be an actress working in film and television in a white male dominated industry.
Longoria, best known for her role in ABC's Desperate Housewives, remembers how some casting directors were hard on her for not sounding ethnic enough.
"Some white male casting director was dictating what it meant to be Latino. He decided I needed an accent. He decided I should [have] darker colored skin," confessed the Telenovela actress and producer. "The gatekeepers are not usually people of color, so they don't understand you should be looking for way more colors of the rainbow within that one ethnicity."
Latifah has also felt the pressures of having to conform to a certain image. In the mid '90s, the actress starred in the hit comedy series Living Single alongside Kim Fields, Kim Coles and Erik Alexandre. Despite the success of the show, Latifah remembers being told that the cast needed to lose weight.
"I felt I represented a woman out there who should get to see somebody who weighs about as much as she does," Latifah explained. "If I want to lose some weight to get healthy, that's my choice. That's not for you to tell me."
In 2000, Roberts starred in Steven Soderbergh's  Erin Brockovich. During the early stages of production, the actress, who at the time was a two-time Oscar nominee, felt her role was being over sexualized by producers.
According to Roberts, when she told producers she was uncomfortable filming an action scene in a mini skirt, she was met with opposition. "I didn't feel I was being fully understood," Roberts confessed.
It wasn't until Soderbergh became attached to the film that Roberts was able to rework the scene. "Steven and I were very in sync about how we wanted to portray everything about her – the sexiness as well as the soul – and I didn't have to wear a micro-mini shimmying down a well to do that," she said.
Like Longoria, America Ferrera shared a similar experience. The Superstore actress recalls her first professional audition at 16. During the commercial shoot, the director asked Ferrera to "sound more Latino" during her read. "I genuinely didn't realize until later that she was asking me to speak English with a broken accent," Ferrera said. "From the get-go of my career I thought, 'There's a certain box or a certain way that you're seen,' which I didn't feel growing up."
Despite these on-going issues, Mindy Kaling notes signs of improvement. After explaining how a part she once wrote for an Indian-American ultimately went to a white actress, Kaling believes that situation would be handled differently today.
"Now, they would work harder to find an Indian-American girl. There's just too much scrutiny, which is good," she said.