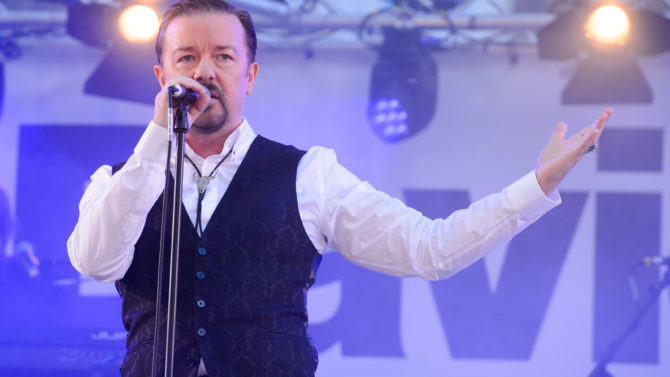 If you watched David Brent: Life on the Road and couldn't get enough of his music, you're in luck. Ricky Gervais is bringing back his famous character from The Office for one night only, in support of a charity in the U.K. Gervais is set to perform Brent's collection of songs, written by the comedian himself, as part of the BBC's "Children in Need" fundraiser on November 16.
"The Children in Need Appeal Show is over the moon to welcome mega star David Brent to sing his heart out and help raise money for disadvantaged children throughout the U.K.," the show's executive producer Paul Wright said.
Although it is unknown which songs from the film's soundtrack Gervais as Brent he'll perform. But it's certain that audiences will love seeing him dancing around like only he knows how.
Other performers include Little Mix, the cast of the stage show Aladdin, and a pre-recorded performance from Michael Buble. Buble had already recorded his performance before announcing his son was battling liver cancer. He has since pulled out of all other performances.
Actors including Fantastic Beasts and Where to Find Them star Eddie Redmayne and the cast of EastEnders have recorded a special skit and musical performance respectively.