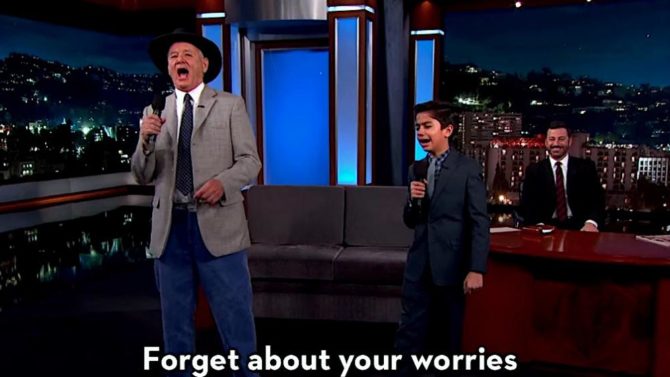 Bill Murray appeared on Thursday's Jimmy Kimmel Live! with his young Jungle Book co-star Neel Sethi. The two surprised the audience with an impromptu rendition of Bare Necessities, surrounded by people in bear costumes.
"We have not rehearsed this," Murray said before singing the classic song from the 1967 animated film with Seethi.
Murray provides the voice of Baloo the bear in the upcoming live-action film and Sethi portrays Baloo's mentee, Mowgli. The film was directed by Jon Favreau, who recently spoke to People about the new technology being used to help create an authentic environment.
"We wanted to give a new take on some of it but maintain the traditions of both Rudyard Kipling's book and the 1967 animated film," Favreau said. "We set out to design a world that felt at once both authentic to India [the story's setting] and also felt mythic and dreamlike.
Scarlett Johansson, Idris Elba, Lupita Nyong'o, Sir Ben Kingsley, Giancarlo Esposito and Christopher Walken also star in the film.
SEE ALSO New 'Finding Dory' Images Feature Dory's Loveable Friends
The Jungle Book hits theaters April 15.