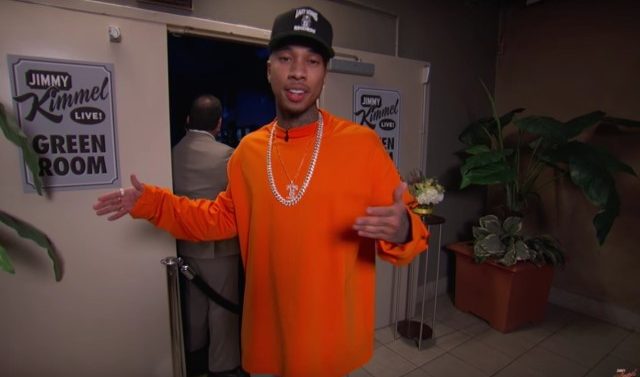 Tyga appeared on Jimmy Kimmel Live! Tuesday night to respond to the backlash after Sir Paul McCartney was caught on camera being denied access to the rappers Grammy after-party.
"I woke up to like a series of texts and TMZ," Tyga said. "It was pretty crazy. I had no knowledge, I was, like, inside performing."
In a video captured by TMZ, McCartney, along with five-time Grammy winner Beck and Foo Fighters drummer Taylor Hawkins are seen approaching a nightclub in Hollywood and then stopped and questioned by a bouncer.  At one point in the video you can hear McCartney jokingly say, "How VIP do we gotta get? We need another hit."
"I wish I would have known he was outside," added Tyga. "I would have went outside with the mic, brought him in to perform 'Rack City' with me."
Tyga explained that the fire marshal is to blame for the snub. "Yea, tweet the fire marshal, don't tweet me," said the rapper.
"You'd think fire codes wouldn't apply to Beatles, there's only two of them left," said Kimmel. "The worst case, they both show up."
Earlier in the day, Tyga took to Twitter to address the controversy.  "Why would I deny @PaulMcCartney stop it. He's a legend," he wrote.
Tyga also apologized to McCartney. "I tweeted him but I don't think he's seen my tweet," said the singer, who hopes they can mend the misunderstanding though a collaboration. "I actually got a show coming up, Feb. 26 at the Nokia Theatre and Paul, if you're watching this I would love for you to come, I will personally walk you in."