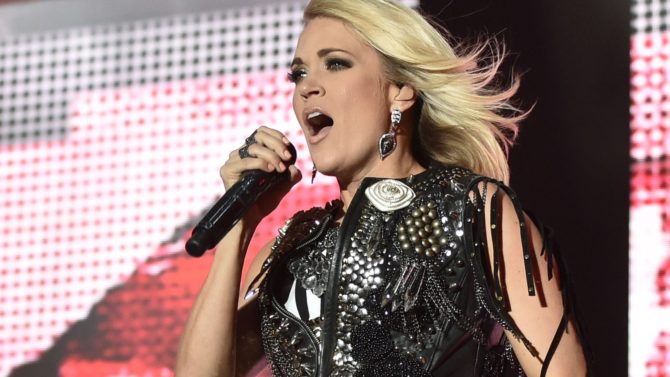 Sunday Night Football needed a new theme song and Carrie Underwood was ready to deliver. The tune is a re-working of her duet with Miranda Lambert, "Somethin' Bad", and it is now titled "Oh, Sunday Night". In this new song, the Grammy-Award winner, who worked with Chris DeStefano, Brett James, and Priscilla Renea on the lyrics, includes elements of pop, country, and rock.
"It has such a great stomp-clap, a 'We Will Rock You' kind of feel to it," Underwood told the Associated Press. "This is such a high energy song."
For the last decade, the NFL has used a re-working of Joan Jett's "I Hate Myself for Loving You," titled "Waiting All Day For Sunday Night." "The song had lasted 10 years, but I didn't know how much more we could stay with the song without it feeling routine,"said Fred Gaudelli, executive producer of NBC's Sunday Night Football.
He added, "We're excited to kick off our second decade of Sunday Night Football on NBC with a new opening theme. Earlier in this offseason, Carrie said she had a special idea for a new SNF opening song. When we got into the recording studio in Nashville, the song instantly came to life, and will be a dynamic addition to our show."
The new song will debut during the first airing of Sunday Night Football, on September 11th, when the New England Patriots play the Arizona Cardinals.
Listen to "Somethin' Bad":