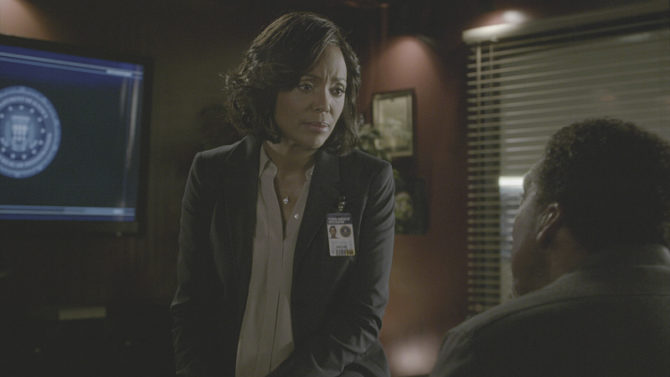 Mr. Scratch is at it again and this time it's personal for Dr. Tara Lewis. On Wednesday's episode of Criminal Minds titled "Mirror Image," Lewis goes on the search for her brother Gabriel after an imposter shows up to meet her at a coffee shop equipped with all his memories. Variety Latino spoke to Aisha Tyler, who portrays Lewis on the hit CBS series, about the intense episode that challenged her character like no other has done to date.
"I think what it'll do for people watching the show is that it'll give them more information about who Tara is," Tyler told Variety Latino on Tuesday. "How she came into the work that she is doing and more about her life experience before joining the BAU [Behavioral Analysis Unit]. It was an incredible episode to shoot and it was also very intense. It's a pretty amazing storyline because you have this guy who claims to be my brother but he's not. But in order to find out what happens to my brother, I have to treat him like my brother. That was a really interesting storyline and extraordinary to play as an actor."
With this particular storyline hitting so close to home for Lewis, things will get emotional for her. You can see from our exclusive clip below showing the very moment she meets the imposter that she is uncomfortable and a bit confused as to why a stranger is presenting himself as her brother.
"Mr. Scratch is the puppetmaster behind all this and he's the one trying to manipulate us and the team," she explained. "Which is something he's been trying to do for years now. Now that he's out of jail, he's back at it. Desmond, the character who believes he is my brother, he's not pretending. This man really believes he's my brother. It presents a really interesting psychological conundrum because, like I said, I can't get any information about where my brother really is without treating this guy like my brother. A lot of stuff comes out about our history and our childhood and our relationship with our father that people are going to find really interesting. Hopefully, in finding my brother, I'll be able to repair my relationship with him."
Throughout Tara's work with Desmond, she ends up learning a lot about her past that she didn't expect. Tyler is excited for fans to go on this journey with her and discover more about her life that helped make her who she is today.
"Tara ends up learning things about her childhood that she didn't know about before. I think everyone can relate to that because we all remember our childhood a bit differently especially if you have siblings. You and your brother or sister that grew up in the same house can have completely different experiences and completely different memories about how your parents treated you. If you've gone through loss—Gabriel and Tara lost their mother—and what that meant to them and what that meant to their father. So a lot of it is about closure and healing."
Another special fact about this episode is that her co-star Joe Mantegna served as director.
"Joe's great! I think this is the 3rd or 4th episode that he's directed that I've been in and he's such a great director. I've worked with some great directors who haven't been actors but there's something special about working with an actor who is also a director. They have a great shorthand with you and they're able to communicate what they want in actor's language. Joe's just a brilliant guy and such a joy to be around all day."
Seeing that this storyline is tied into Mr. Scratch, will the mystery about her brother be solved by the end of the episode? Or will it be something that will carry on into future episodes?
"I can't tell you," she said while laughing. "You'll have to watch and see what happens!"
New episodes of Criminal Minds air Wednesday nights at 9pm on CBS.