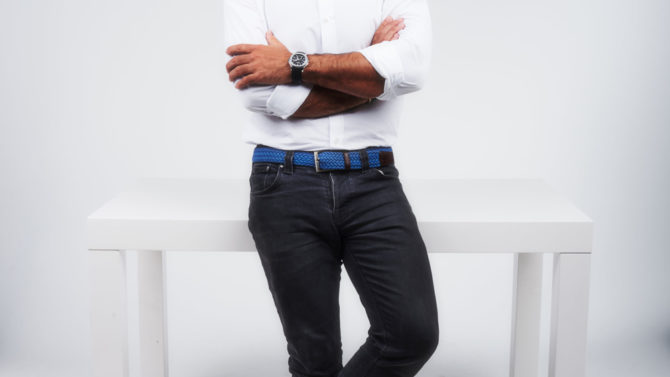 Jorge Granier is known as the man who brought the series Jane the Virgin to the United States and as one of the people who helped nurture it into a Golden Globe-nominated series. That's why Variety Latino has selected him as one of their "10 Latinos to Watch" for 2016. Some might say it was his destiny to follow in the footsteps of multiple generations of the Granier family who worked in media, but it was his genuine love of the medium that enticed him to work in TV news at an early age. It was also his experience at this job that helped fuel his passion that led him to become a top provider of Spanish-language content to the world today.
"I love television," Granier told Variety Latino. "My first job I was in television in Venezuela when I was 15-years-old. I was doing the news. I've always really liked reading newspapers and clipping certain types of stories. Through that, I noticed a trend in the Venezuela and Colombian relations which were strained at that time because of the oil in the Gulf of Venezuela. I pitched that to a producer and they thought it was a cool and interesting idea so I did my first 5 minutes of TV and got hooked."
His company has had great success and a lot of fun bringing quality programming to the United States. Jane the Virgin has been a huge success both for the cast and crew as well as The CW network. The show has earned many accolades including a Golden Globe Award for lead actress Gina Rodriguez, American Film Institute Award for Television Program of the Year, a Peabody Award and a People's Choice Award for Favorite New Comedy.  The show also earned nominations from the Television Critics Association, Emmy Award nomination for Outstanding Narrator for Anthony Mendez, and many more.
"People have fallen in love with Gina Rodriguez," he said. "Jaime Camil came from being a star in Mexico and then crossing over and truly becoming a household name."
Alongside his business partner Rich Hull they created Pongalo, a company with a library of more than 50,000 hours of film and television content including upwards of 10,000 of telenovela episodes from every major content production region in Latin America. The duo holds partnerships with the top streaming outlets in the game including Netflix, Hulu, Amazon, and Google.
"There was a need to bring Latin American stories to the U.S., giving a voice to Latino in the U.S., the fastest demographic growing here and seeing where they were underserved. I don't think Latinos were being portrayed on TV or in films as diverse as we are. So by bringing shows here that were inherently Latino, I thought that was the way to do it."
Adding, "In digital I had access to thousands of hours of telenovelas, movies, and TV shows— all Spanish-language content and I couldn't find any of it available here. So I saw an opportunity there that lead us to create our company Pongalo where you can find it all. We put select pieces of content on the larger, more mainstream outlets and then we developed our own platform that has everything for Latinos."