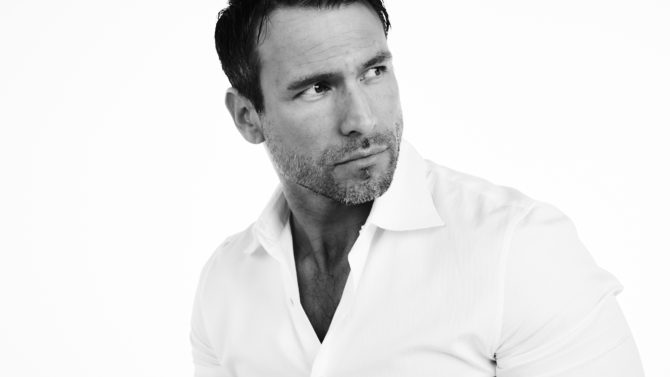 It's the end of the road for Queen of the South's freshman season and series guest star Rafael Amaya has a little more insight into his role to share. In an epic bilingual crossover, Amaya is bringing his character Aurelio Casillas from Telemundo's El Señor de Los Cielos to play with the characters of the popular USA Network series that recently got picked up for a second season.
Amaya, who played the role of Guero in the Spanish adaptation of Arturo Perez-Reverte's novel La Reina del Sur, remembers the first time he heard the story was being adapted to English.
"I was very excited when I heard the news that USA had bought the rights to develop the story," Amaya told Variety Latino. "Hopefully that will happen with El Señor de Los Cielos as well."
So what kind of trouble will Aurelio be getting into in the finale? Amaya admits his character mostly interacts with Epifanio (Joaquim de Almeida) and Teresa (Alice Braga).
"Epifanio calls Aurelio Casillas, my character, to ask him for help and his opinion," he explained. "I don't know if it's to pressure Teresa Mendoza to tell Epifanio about the book? There's some info in the book about him and me so that's why he calls me. He needs help but when he sees [Teresa], he realizes she's beautiful, so he's thinking about so many things that I can't tell you because it's the last episode."
Adding, "I'm going to ask her a couple of questions and talk to her. It's a very small role, I'm only on for like 10 minutes."
Will there be a certain sparkle in Aurelio's eye the moment he and Teresa meet? Could this lead to a potential love story in the future?
Amaya replied coyly, "I don't know. Let's see what happens in the second season."
Ok. Amaya wasn't willing to spill much more about what fans will see once the finale airs. But, he did admit that he would love for someone from Queen of the South to crossover on En Señor de Los Cielos when it returns to Telemundo in 2017.
"That would be awesome, he said. "That's a corporate thing but that's something I'd love to see. We're dying to do something like this."
The season finale of Queen of the South airs Thursday night at 10pm only on USA Network.