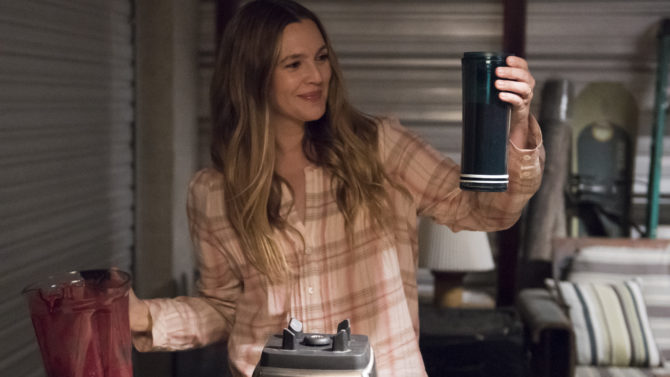 Netflix is giving subscribers an early Christmas gift! The streaming service shared two images of their upcoming dark comedy Santa Clarita Diet featuring stars Drew Barrymore and Timothy Olyphant on Monday. And if that isn't enough, they also announced the official premiere date for the series, February 3, 2017.
Barrymore and Olyphant played married couple Sheila and Joel Hammond who work as realtors and are living vaguely discontented lives in the L.A. suburb of Santa Clarita with their teenage daughter Abby (Liv Hewson).  Netflix explains that things change for the family when "Sheila goes through a dramatic change sending their lives down a road of death and destruction…but in a good way."
"The genius casting of Timothy and Drew combined with Victor's unique comedic sensibility will delight, and definitely surprise, our members around the world," said Cindy Holland, Netflix vice president of original content in a statement.
While this is Barrymore's first time working in a television series, Olyphant has a long list of TV credits including a lead role in FX's Justified and a recurring role in Damages. Both Barrymore and Olyphant are credited as executive producers alongside showrunner Victor Fresco and Aaron Kaplan, Tracy Katsky, Chris Miller and Ember Truesdell.
The second photo featuring Olyphant is below: