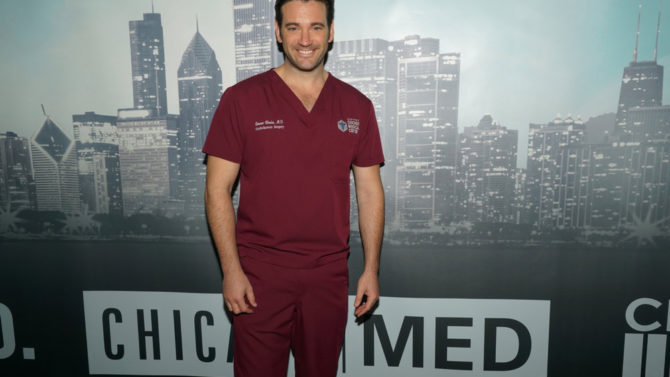 Colin Donnell is taking a step back as Dr. Connor Rhodes on the NBC hit medical drama Chicago Med during season two. Connor's time at Gaffney Chicago Medical Center has gotten tougher and not everyone is cheering for him. But Donnell is having a great time portraying the hardships his character is going through.
The 34-year-old spoke to Variety Latino about what we can expect for the remainder of the season at the "One Chicago Day" press day in Chicago on Monday.
"It's a lot of him finding his way," Donnell told Variety Latino. "Last year he was built up in such an interesting way to be this kind of 'golden child', 'the next coming', or 'the next big thing' in cardiothoracic surgery at the hospital. It's been fun to play the storylines now that they've gone in the way of him not knowing anything. That idea that not everything is going to go right, is always the most fun to play. Particularly in this next episode coming up we have the sort of this no good horrible bad day. Every move that he thinks he is making right, goes wrong."
Donnell has found that his character has a major thorn in his side. Not everyone is impressed by Connor or his reputation.
"Eto Essandoh is amazing," he said about the man who portrays his new boss, Dr. Isidore Latham. "The character that they've written for him is such a great antithesis for what Dr. Downey was last year. We're going to learn a lot more about Dr. Latham as we go forward into the season and what makes him tick. It's been fun, he really takes Connor down a peg. Learning to deal with that dynamic and trying to figure out how to learn in that sort of environment has been really interesting."
No matter what is going on with his character, Donnell is having a lot of fun playing on the sets with all the very realistic body parts while in surgery. One of his favorite moments took place in episode 5 entitled "Extreme Measures," when April (Yaya DaCosta) and her brother Noah (Roland Buck III) try to save a man who was run over at the Chicago Marathon.
"We just did a procedure the other day, we were closing up a chest after open heart surgery. Our effects team is so spectacular and they've only gotten better as we go along. This last week April and Noah were at the marathon. The prosthesis they were using were really life-like. Last year Connor was more involved in more of the trauma surgeries, so it felt like every week was a contest to see who could spray my face with blood. This year, I've been a little cleaner at the end of the day."
Watch Donnell in new episodes of Chicago Med Thursday nights at 9pm on NBC.