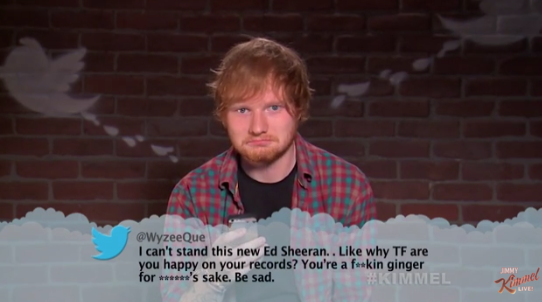 A new music edition of Jimmy Kimmel Live! 'Mean Tweets' aired Monday night after the 58th Annual Grammy Awards. The segment featured Drake, One Direction, Meghan Trainor, Blake Shelton and Lionel Richie among others.
Trainor kicked things off with a tweet about herself: "Meghan Trainor is like if the sassy girl you used to work with at Express just randomly had a singing career," the 22-year-old read out loud. The singer, was undoubtedly in a good mood after winning her very first Grammy for Best New Artist.
Ricky Martin, who didn't attend the award show, made a surprise appearance. "Ricky Martin? More like icky fartin," he read puzzled. Martin took home the Grammy for Best Latin Pop Album.
Ed Sheeran, Common, Little Big Town, Kelly Clarkson, Charlie Wilson, Josh Groban, Demi Lovato, Wiz Khalifa, The Killers, Rita Ora and James Taylor also participated in the latest lightning round of "Mean Tweets".
One extremely harsh tweet in particular was dedicated to Blake Shelton. "If I could choose to punch one piece of s–t in the face it would be Blake Shelton, f–k that bloated a–hole." The country star responded with a quick smirk and a long stare at the camera.