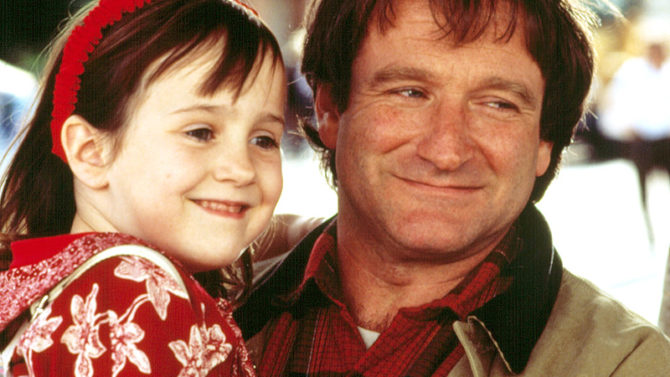 Mara Wilson, known for her roles in Matilda and Mrs. Doubtfire, made her return to acting with a small cameo in Wednesday's Broad City. 
Wilson portrayed a waitress at the restaurant where Abbi is caught between Ilana's parents' anniversary dinner and a secret date with her lover Trey. The scene paid tribute to Robin Williams, who starred in the 1993 comedy with Wilson when she was age 6.
Wilson, a huge fan of Broad City, explained to Brokelyn that it was her idea to appear on the show, even though she no longer works in front of the camera.   
"I followed Abbi [Jacobson] on Twitter, and she sent me a message saying, 'That's really weird that you followed me today, because we are working on an episode right now that's an homage to Mrs. Doubtfire.'"
"I felt emboldened a few days later, I think it was after a glass of wine, and I said, 'You know, if you want me to make a cameo or something on this, I totally would. I don't act much, I don't really like film or TV acting, but this would be really fun and I have a lot of respect for you two,'" she told Brokelyn. "They were like, 'Totally, we'd love to have you on.' They were both really excited. Ilana sent me a 'Yes, yes kween!' email."
Wilson also spoke about Williams' death. "I think that Robin dying was another thing that made me realize that I'd been pushing myself away from my past and not embracing it. I'm not gonna be the kind of person who goes to a restaurant and says, "Don't you know who I am? I was that little girl in that movie." That's not me," she said. "I still get shy about it when people ask me, but I think that it's something I realize I do have such fond memories of. It didn't feel heart-wrenching or difficult to be there. It was a pleasant experience, and a nostalgic one."