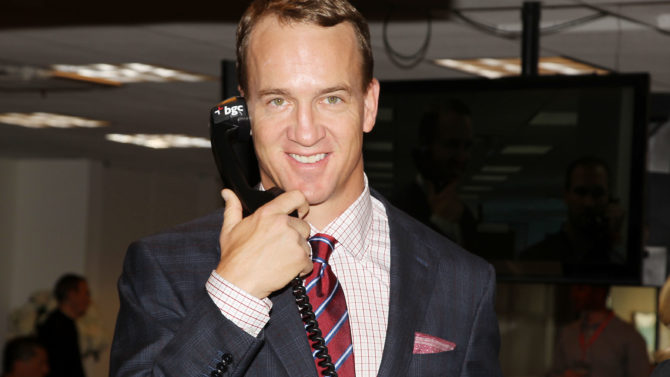 Peyton Manning might have a new career now that he's retired from playing professional football. The former quarterback just scored a guest starring role on the ABC hit comedy Modern Family, a representative for the network confirmed to Variety Latino. Manning guest stars as Coach Gary, baby Joe's (Jeremy Maguire) sports tutor, who is brought in by Gloria (Sofia Vergara) to help teach him how to throw and catch. According to Entertainment Weekly, Jay (Ed O'Neill) feels a bit emasculated and throated having Coach Gary around.
Manning, who is friends with Modern Family co-creator Steve Levitan, is no stranger to comedy. The 40-year-old guest-voiced an episode of The Simpsons in 2009 alongside his brother Eli Manning and Cooper Manning. The trio play famous brothers in the episode entitled, O Brother, Where Bart Thou. He also hosted an episode of Saturday Night Live in 2007 and he served as roast master of the Comedy Central Roast of Rob Lowe.
You can catch Manning's Modern Family episode, the 12th of the season, to air in January 2017. New episodes of the hit comedy air on ABC Wednesday nights at 9pm ET/PT.