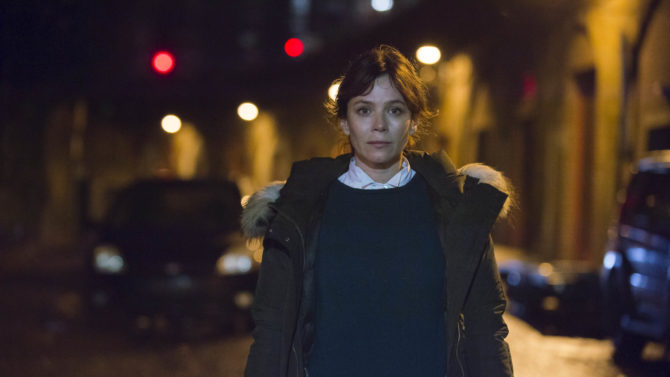 Netflix has a new collection of movies and television shows coming in July.
New original series Marcella, starring Anna Friel, kicks off on July 1. Marcella (Friel) is a Metropolitan police officer who left the force for the sake of her family. After her husband leaves her, she goes back to work on the murder squad investigating an old case from her past. How will Marcella cope with returning to duty when her own temperament is so fragile and vulnerable?
Deep and comedy special Jim Jefferies: Freedumb will also debut that same day, while Netflix original series Marco Polo returns with an all-new second season as well.
RELATED Winona Ryder Stars in 'Stranger Things' Trailer for Netflix
The rest of the month has other big releases, including the debut of Winona Ryder's Stranger Things on July 15, season three of Bojack Horseman and three original films: Brahman Naman, on July 7; Rebirth, on July 15; and Tallulah, on July 29.
Here is the full list of releases:Available July 1:
41 on 41
A Long Way From Home
Back to the Future
Back to the Future Part II
Back to the Future Part III
Bad Boys II
Batman: The Movie
Beavis and Butt-head Do America
Between: Season 2
Beverly Hills Cop
Beverly Hills Cop II
Big Trouble in Little China
Blade 2
By the People: The Election of Barack Obama
Catwoman
Cheaper by the Dozen
Cinderella Man
Conflict
Death Race 2
Death Race 3: Inferno
Deep, season 1
Dreamcatcher
Extremely Loud and Incredibly Close
Gentlemen Prefer Blondes
Gladiator
Hello, Dolly!
Hey Arnold! The Movie
Honey
Insomnia
The Italian Job
Jackass: Number Two
Jim Jefferies: Freedumb
Lalaloopsy Ponies: The Big Show
Lethal Weapon
Lethal Weapon 2
Lethal Weapon 3
Lethal Weapon 4
The Longest Yard
The Lovely Bones
Making the American Man
Marcella, season 1
Marco Polo, season 2
Mean Girls
Nevada Smith
Nick of Time
The Painted Veil
Pandemic
Phenomenon
Raiders Of The Lost Art, season 2
Rumor Has It
Scooby-Doo
The Shannara Chronicles, season 1
The Sting
Stomp the Yard: Homecoming
Talhotblond
Terminus
Turner and Hooch
Twisted
Watershed: Exploring A New Water Ethic For The New West
Well Wishes
Working Girl
Yours, Mine and Ours
Available July 4:
Kuromukuro, season 1
Available July 6:
The Big Short
Available July 7:
A War
The Armor of Light
Brahman Naman
NSU German History X, season 1
Available July 8:
The Invitation
Word Party, season 1
Available July 9:
Mustang
Mystery Files, season 1
Available July 10:
The Last Kingdom, season 1
Available July 12:
Rolling Papers
Available July 14:
Gridlocked
Magi: The Adventures of Sinbad, season 1
Todd Margaret, season 3
Available July 15:
The Adventures of Puss in Boots, season 3
Ghostheads
Holidays
Rebirth
Stranger Things, season 1
Tony Robbins: I Am Not Your Guru
Available July 16:
Fighting
Available July 19:
Liv and Maddie, season 3
Available July 21:
Internet Famous
Available July 22:
BoJack Horseman, season 3
Degrassi: Next Class, season 2
Available July 24:
Popples, season 3
Available July 27:
The Wave
Available July 29:
Home: Adventures With Tip & Oh, season 1
Last Chance U
LEGO Bionicle: The Journey to One, season 2
Tallulah
Available July 30:
My Little Pony: Friendship Is Magic, season 6, part 1
Available July 31:
Hit Record on TV with Joseph Gordon-Levitt, season 2