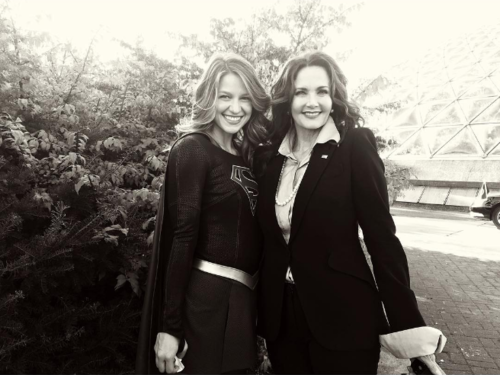 A very special guest visited the set of The CW's Supergirl on Thursday. Lynda Carter, who found fame in the 1970's when she suited up as Wonder Woman, arrived to work alongside Melissa Benoist and the moment was documented on social media.
Benoist wrote on her personal Instagram account, "Met a wonderful woman today @reallyndacarter"
"Having so much fun filming Supergirl on The CW with Melissa Benoist!"
Carter wrote about her experience via her official Twitter account:
Carter was announced to be joining the cast in June in the role of President of the United States, in a wonderful nod to her role in popularizing the female superhero on the small screen. Executive producers Greg Berlanti and Andrew Kreisberg told reporters they'd tried to cast Carter for season one but were unable to due to scheduling conflicts.
Her uniform on the CW series is much more serious than what she got to wear as a superhero all those years ago. Though true fans will probably imagine she has her trademark red, white, blue and gold costume underneath her presidential suit.
Season two of Supergirl kicks off on Monday, October 10 at 8pm on The CW Network.