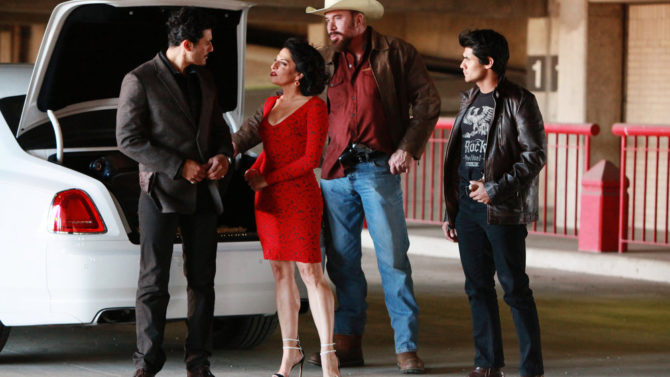 Things got pretty tough for Camila (Veronica Falcon) in the last two episodes of Queen of the South, but it's finally all working itself out to her benefit. James (Peter Gadiot) and Teresa (Alice Braga) successfully stole the drugs from the Florida dealers though the latter didn't come out unscathed. She ended up having to kill the surviving member of the crew. with promises from The show writer's have been promising that this event will forever change Teresa. So you can expect the moment she became a killer will prove to be a pivotal point in her life.
There is one witness left, however, a maid named Maria (Lanell Pena) who can identify Teresa's involvement. The poor scared maid made herself bleed while desperately trying to escape from the future Queen of the South who promised her that no harm would come to her. Now Teresa will once again risk her life to ensure she keeps her word when Camila orders her murder so there are no lose ends.
In this exclusive clip, Camila confronts The Birdman (Brent Smiga) though he isn't completely shaking in his boots. He tells her she can't have him killed because there are laws that even criminals have to follow. "You're not authorized to take me out," he says to Camila with a slight tremble in his voice.
Tune in for an all-new episode of Queen of the South, Thursday night at 10pm only on USA Network.