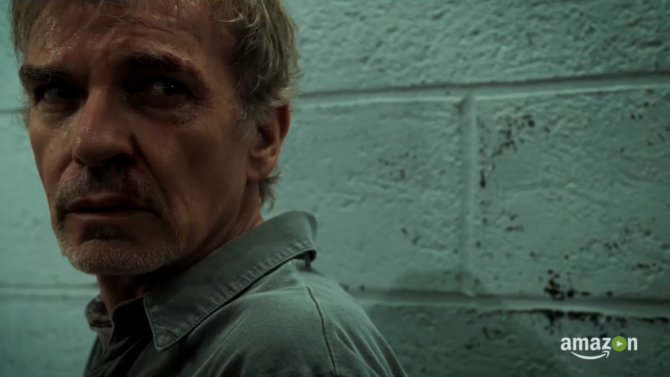 Billy Bob Thornton is heading to the small screen in Amazon's Goliath this fall. The studio released the first trailer for the legal drama written by David E. Kelley (Boston Legal, Ally McBeal), which will consist of eight episodes. Amazon describes the series as the ultimate David vs. Goliath battle fought in the 21st century American legal system.
It follows a down-and-out lawyer named Billy McBride (Thornton) who is seeking redemption. His one shot depends on getting justice in a legal system where truth has become a commodity, and the scales of justice have never been more heavily weighted toward the rich and powerful.
In June, Amazon announced the addition of multi-platinum recording artist Dwight Yoakam to the cast. He is set to play Wendell Corey, the head of the giant aerospace company defended by powerful law firm Cooperman McBride, Borns Tech. McBride takes on both of these "goliath" businesses in season one.
Rounding out the cast are Maria Bello (The Jane Austen Book Club), William Hurt (Captain America: Civil War), Molly Parker (The 9th Life of Louis Drax), and Olivia Thirlby (The Wedding Ringer).
Goliath will be available to stream via Amazon Video on October 14.