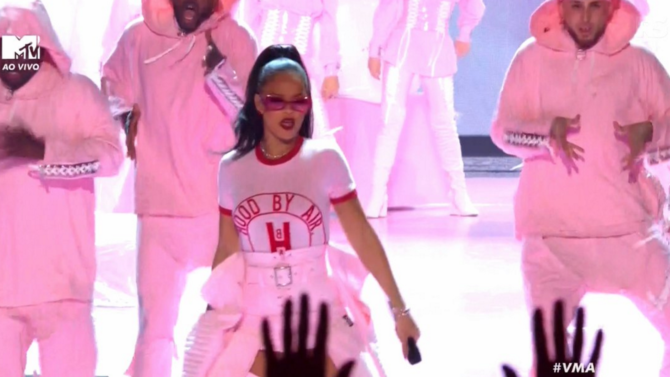 Rihanna dejó claro que sabe cómo inaugurar un evento. Esto ya que fue ella quien se encargó de la apertura de los Videos Music Awards (VMAs) 2016.
"Don't Stop the Music", "We Found Love" y "Where Have You Been" fueron los éxitos que la cantante interpretó acompañada de un grupo de bailarines vestidos de blanco. El escenario también era de color blanco y estaba iluminado con luces de tonos violetas.
Al culminar su presentación, los presente celebraron a la artista original de Barbados con una ovación de pie.
VER TAMBIÉN: La alfombra roja de los MTV Video Music Awards 2016: Ellas [FOTOS]
Rihanna llegó a la premiación con cuatro nominaciones, entre ellas "Mejor video femenino", por Work, el cual comparte con Drake; "Mejor video masculino", por This Is what you came for, con el DJ Calvin Harris, y las otras nominaciones son por su colaboración en ambas piezas musicales. Además, durante esta edición la también modelo recibió el "Michael Jackson Vanguard Award".
Este año, y por primera vez, la ceremonia de los VMAs tomó lugar en el Madison Square Garden de Nueva York. El evento se transmitió a través de su cadena oficial, MTV.
VER TAMBIÉN: La alfombra roja de los MTV Video Music Awards 2016: Ellos [FOTOS]