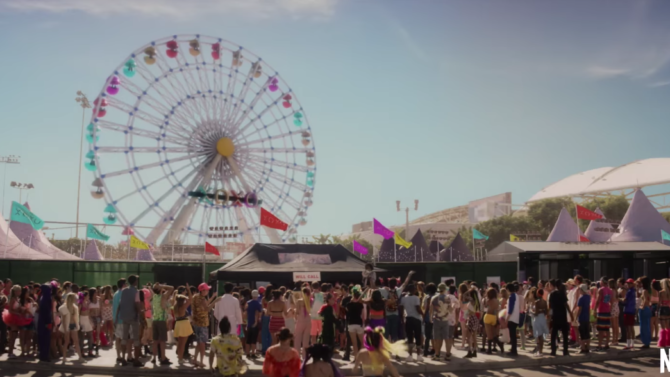 Netflix put together a little party film called XOXO and you can join by watching the first trailer released on Thursday. The film delves into the world of EDM music and the huge festivals and raves that fans of the genre flock to all over the world.
It follows six twenty-somethings headed to the biggest music festival in America, XOXO. It looks like Coachella with the big ferris wheel and everything. These strangers will weave in and out of each other's lives as friends and some even romantically! The character at the center of the story is a young DJ named Ethan (Graham Phillips) whose friend scored him a last minute spot to perform at the festival after his music went viral.
The film is directed by was directed by Christopher Louie and co-stars Sarah Hyland (Modern Family), Brett DelBuono (Primrose Lane), Chris D'Elia (Undateable), Haley Kiyoko (Jem & The Holograms), Colin Woodell (Masters of Sex), Ryan Hansen (Party Down), Ian Anthony Dale (Hawaii Five-0) and Ione Skye (Say Anything).
BBC Radio 1 DJ Pete Tong serves as music supervisor on the project.
XOXO will be available for streaming via Netflix on August 26.