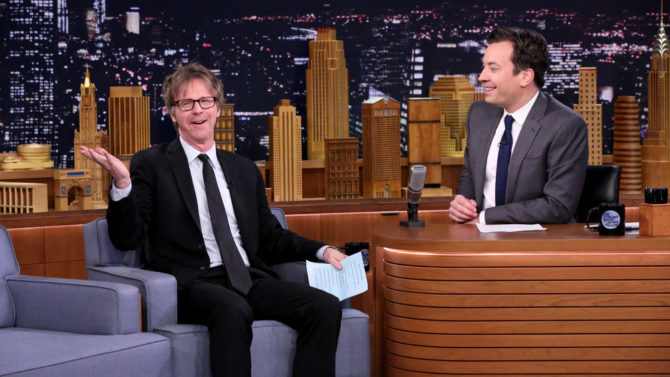 Dana Carvey is hilarious! The comedian and actor visited with Jimmy Fallon on The Tonight Show Friday night when he announced to the audience he would be sharing celebrity micro-impressions. Carvey, who got his start on the big and small screen in the 1980's, imitated Sean Connery, Liam Neeson, Al Pacino as Scarface and Michael Caine.
He completed a total of seventeen micro-impressions in about two minutes. Not only did he imitate the actors/characters, but he put them each in special situations. For example, he acted out how Sean Connery would react if he was asked to vacation in Spain, Michael Caine as a kindergartner, Chris Rock as a sushi chef, Christopher Walken enjoying a magic trick, and Tony Montana at Thanksgiving dinner. He even sends some big laughs towards presidential nominee Donald Trump as he and Fallon imitate him putting on Chapstick.
Carvey is currently on the road promoting his Netflix comedy special entitled, Dana Carvey: Straight White Male, 60. Fans his longtime stand-up shows can see this latest special, shot in Boston's Wilbur Theatre, available right now via Netflix streaming according to his official Twitter account.