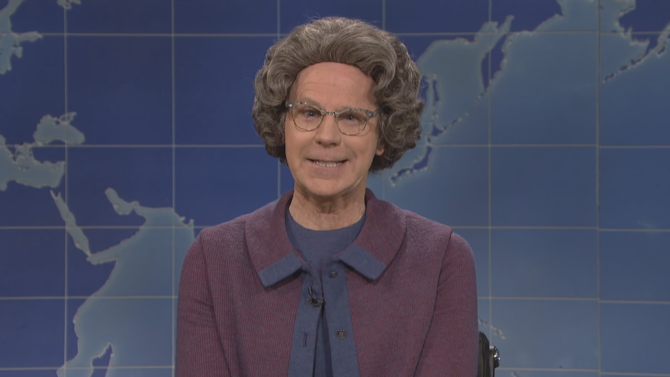 One of the biggest characters to come from Saturday Night Live made her big return on Saturday's "Weekend Update." Dana Carvey dressed up in his Sunday best to bring back 1980's staple Church Lady who chatted up anchor Colin Jost about the upcoming election. Well isn't that special?!
After teasing Jost about staying up late instead of getting to bed early for church on Sunday, the conversation headed towards a debate about the current election.
"Well it's a tough choice we have on Tuesday Colin," the Church Lady said. "Do we vote for a bitter female android from the '90s or a riverboat captain with a big tummy and a big orange head?" Jost asked, "So you have not chosen a candidate yet?" She replied, "Jesus is not on the ballot Colin. I supposed he's not part of your life either, is he?"
Carvey has been on the media circuit this week in support of his Netflix comedy special, Straight White Male, 60 available for streaming right now. You won't see him dressed up as the Church Lady there but you can expect to hear him do many of his favorite impressions.
Watch the video of Church Lady visiting SNL below: