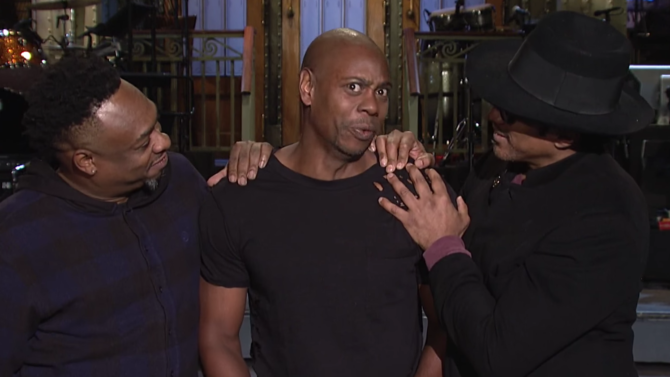 Comedian Dave Chappelle is one day away from hosting his first-ever episode of Saturday Night Live, but will he show up? In a new promo for the show released on Friday, Chappelle jokes alongside Q-Tip and Jarobi White from the episode's musical guest's A Tribe Called Quest. As the video begins, viewers have walked in on an inside joke between the trio before the Quest duo tease the comedian about showing up for his hosting duties.
Q-tip asks, "Are you sure you're going to be here man? Chappelle responds nervously, "Yeah, we'll see." The video ends with the trio looking perplexed into the camera.
Chappelle's acceptance to host SNL has brought up a lot of conversations about this being a big return for the former star of Comedy Central's Chapelle's Show which ended abruptly after two seasons in 2006. The extremely popular sketch comedy series met its end after a very public meltdown from creator Chappelle who left to South Africa in search of healing.
As is evident in the video, the 43-year-old looks happy and healthy. He's gained muscle mass and he is looking really good! Audiences are definitely ready for more Chappelle in whatever way he feels the most creative…so bring it!
Watch the full promo below and tune-in to watch the episode on Saturday at 11:30pm on NBC.