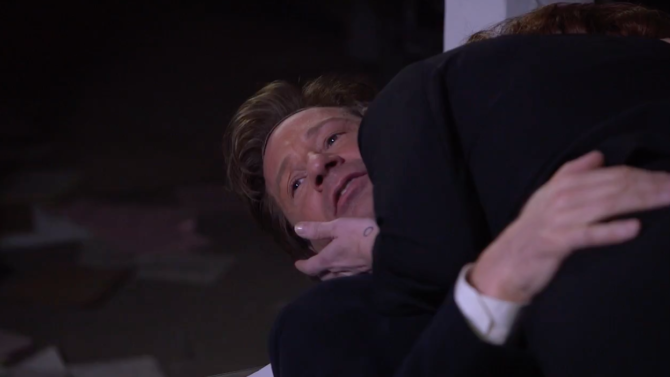 Jimmy Kimmel es uno de los fanáticos más asérrimos de The X-Files, o al menos eso es lo que dice él. Es por ello que saltó en una pata cuando Chris Carter, creador de este mítico show de televisión de los 90, lo invitó a formar parte de la nueva miniserie de seis episodios que será estrenada a finales de enero. El resultado quedó grabado en un genial sketch que fue lanzado en Jimmy Kimmel Live.
La secuencia se desarrolla en un oscuro laboratorio de Nuevo México donde Mulder (David Duchovny) y Scully (Gillian Anderson) encuentran, por medio del uso de sus ya clásicas linternas, el cuerpo de un alien conservado en formol.
Es acá cuando Kimmel entra en escena comiendo un sandwich y prendiendo todas las luces del recinto para darles una clase de "modernidad" a los protagonistas del programa de televisión, enseñándoles lo que es un iPhone y lo que puede hacer el Internet actualmente, todo esto por ser "de los 90". El climax del video ocurre cuando el animador les recalca que ya es hora que tengan sexo luego de tanto tiempo trabajando juntos. ¡No creerás lo que pasa al final!
SPOILER ALERT
Si eres fan de The X-Files sabrás que el show nunca mostró a estos dos personajes teniendo relaciones sexuales en ningún momento, aunque era innegable la atracción que había entre los dos.
Acá puedes ver el video completo:
Recuerda que la nueva miniserie de The X-Files estrenará dos capítulos en una misma semana. El primero podrá ser visto el 24 de enero a las 10pm ET/ 7pm PT y el segundo el 25 de ese mismo mes, para luego continuar regularmente cada lunes.