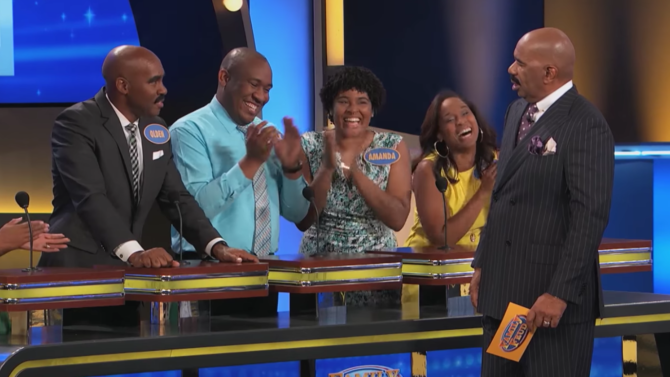 Olden Thornton recently competed on Family Feud and no one could help but notice he bears a striking resemblance to host Steve Harvey. Thornton, who has been a full-time pastor for 17 years, says there's not a day that goes by that people don't confuse him one of the Kings of Comedy.
"Every single day of my life, people come up to me and call me Steve Harvey," Thornton told the comedian and author. "And I don't even have your money. I mean, I think I should get compensated or something. Don't you think?"
As Harvey looks back at Thornton confused then laughing before replying, "But I'll tell you what pal, it ain't a bad deal man! I'm actually looking at him, and I really hate to say this but I'm an honest guy: You're actually a little better looking than I am. It's kind of hurting me a little bit."
SEE ALSO Things Get Creepy When a Child Conjures the Dead in New 'Ouija: Origin of Evil' Trailer
If Harvey ever needs a stunt double or a stand-in in the future, he may want to keep Thornton's number handy.
Watch the hilarious exchange below: