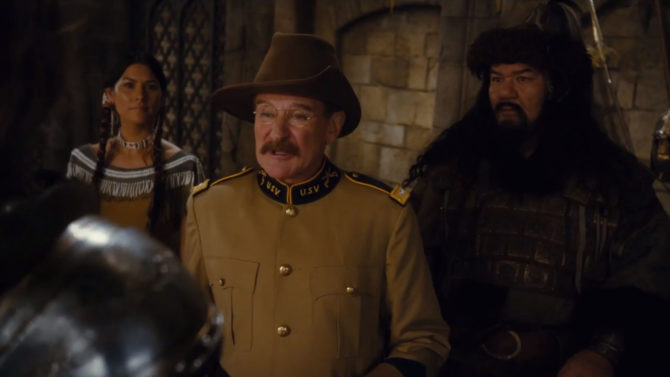 Llegó un nuevo trailer de "Night at the Museum: Secret of the Tomb" donde podemos ver un poco más de Robin Williams en este papel.
Recordemos que esta fue una de las últimas películas que alcanzó a filmar el actor, antes de que acabara con su vida el 11 de agosto de este año.
En la comedia, el actor hizo el papel de President Theodore Roosevelt, rol que también había hecho en las entregas anteriores.
La historia de esta película trata de un guardia de un museo llamado Larry Daley, interpretado por Ben Stiller quien tiene un papel más complicado que sólo vigilar el museo, porque también debe enfrentarse a todos los personajes que cobran vida dentro de él.
Además de Williams, veremos a Octavius (Steve Coogan) y el vaquero Jedediah (Owen Wilson) junto con Rebel Wilson como una guardia británica, junto a otras estrellas.
Robin Williams se quitó la vida en agosto debido a una profunda depresión que sufría, según reportes se podría haber debido a alucinaciones que tenía producto del remedio que tomaba para el Alzhaimer, enfermedad que le estaba comenzando.
Sus últimas películas que grabó, además de esta fueron "A Merry Friggin' Christmas" y "Absolutely Anything" donde podremos ver al querido actor.
"Night at the Museum: Secret of the Tomb" llegará a los cines este 19 de diciembre.
Acá te dejamos el trailer.
¿Vas a ir a ver esta película?