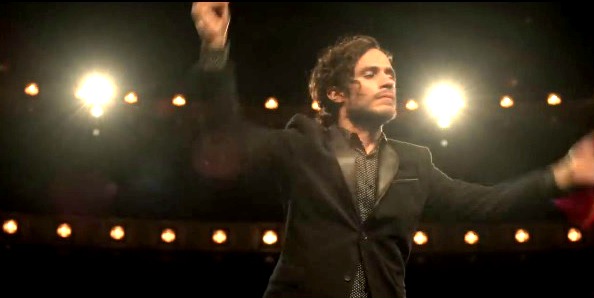 Amazon Studios ha lanzado 10 pilotos en búsqueda de programación nueva, incluyendo dos dramas creados por Chris Carter ("The X-Files") y Eric Overmyer ("The Wire"). Tomando las opiniones del público el estudio seleccionará las nuevas series que distribuirá via su servicio Amazon Prime, similar al servicio de suscripción de Netflix.
A partir del jueves, los pilotos del estudio estarán disponibles al público para ver y opinar en las plataformas de Prime Instant Video en los Estados Unidos y LoveFilm de Amazon en Inglaterra.
Como se anunció previamente, los primeros dos dramas incluyen "The After" de Chris Carter y "Bosch" protagonizada por Titus Welliver, tres comedias ("Mozart in the Jungle," "Transparent" y "The Rebels") y cinco espectáculos para niños ("Gortimer Gibbon's Life on Normal Street," "Hardboiled Eggheads," "The Jo B. & G. Raff Show," "Maker Shack Agency" y "Wishenpoof!").
Los primeros pilotos de Amazon Studios se estrenaron en abril del 2013 con ocho pilotos de comedia y seis pilotos para niños. De ellos, "Alpha House" y "Betas" fueron aprobados para series completas, que fueron estrenadas el pasado otoño, junto con tres series de niños, "Annesdroids," "Creative Galaxy" y "Tumble Leaf," que se estrenaran este año.
Roy Precio, el director de Amazon Studios, tomara una decisión en los próximos 60 días sobre cuáles de los 10 pilotos serán aprobados.
"Nuestra filosofía sobre programas de TV y de películas es mantener el enfoque en los clientes, y prestar atención a las opiniones de los clientes – para que ellos se sientan parte del proceso y de la decisión final," dijo Price.
Desde su lanzamiento en noviembre del 2010, Amazon Studios ha recibido más de 20,000 guiones de cine y 6,000 proyectos de serie, aunque, obviamente, sólo algunos han sido desarrollados. La audiencia puede ver los pilotos en Amazon.com o a través del app Amazon Instant Video, disponible en iPad, iPhone, iPod Touch, Roku, Xbox, PlayStation, Wii, tabletas de Kindle Fire, varios televisores "smart" y otros aparatos electrónicos.
Amazon ha firmado a Geico como el patrocinador para la segunda ronda de pilotos. Todos son disponibles para ver en el sitio web aquí.
Algunos de los pilotos incluyen:
Dramas
"Bosch"
Un drama policial basado en la serie de Harry Bosch de Michael Connelly, escrito por Eric Overmyer y Connelly. El piloto sigue al personaje principal, interpretado por Titus Welliver ("Argo", "The Good Wife") mientras persigue al asesino de un niño de 13 años de edad.
"The After"
La historia sigue a ocho desconocidos que se encuentran con fuerzas misteriosas y que deben ayudarse mutuamente para sobrevivir en un mundo violento que desafía toda explicación. El piloto fue escrito y dirigido por Chris Carter ("The X-Files").
Comedias
"Mozart in the Jungle"
Un drama-comedia basado en el libro de "Mozart in the Jungle" por Blair Tindall sobre el sexo, las drogas y la música clásica – que muestra lo que sucede detrás de las cortinas de la sinfonía. Escrito por Roman Coppola ("Moonrise Kingdom," "The Darjeeling Limited"), el actor y músico Jason Schwartzman ("Saving Mr. Banks," "Moonrise Kingdom") y el guionista y director Alex Timbers ("Peter and the Starcatcher" de Broadway). Paul Weitz ("About a Boy," "Admisión") dirigió el piloto y la producción ejecutiva. El elenco incluye: Gael García Bernal, Saffron Burrows, Lola Kirke, Malcom McDowell, Bernadette Peters y Peter Vack.
"Transparente"
Una comedia negra sobre una familia en Los Angeles con problemas de límites serios. Escrita y dirigida por Jill Soloway ("Afternoon Delight," "Six Feet Under" y "United States of Tara"). El elenco incluye: Jeffrey Tambor, Judith Light, Gaby Hoffmann, Amy Landecker y Jay Duplass.
"Los Rebeldes"
Una comedia de deportes que sigue a Julie Levine (Natalie Zea), después de que su marido muere y la deja como la única propietaria de un equipo de fútbol profesional. Escrito por Jeremy Garelick y Jon Weinbach, el equipo creativo también incluye el músico y actor Ice Cube y Michael Strahan, ex jugador de los New York Giants y co-presentador del programa "Live with Kelly y Michael. "
Series Para Niños
"Gortimer Gibbon's Life on Normal Street"
La historia de aventura se enfoca en Gortimer, sus dos mejores amigos Ranger y Mel, y sus hazañas en Normal Street, un barrio normal que tiene un toque mágico. El piloto fue dirigido por Luke Matheny ("God of Love," "Maron").
"Hardboiled Eggheads"
La comedia animada de acción para niños de 6-11 sigue a dos amigos, Kelvin y Miles, que parecen niños normales, pero cuando debido batallan monstros tóxicos, marcianos y verduras asesinas. La serie fue criada por Duane Capizzi ("Transformers Prime," "Jackie Chan Adventures," "Men in Black: The Series").