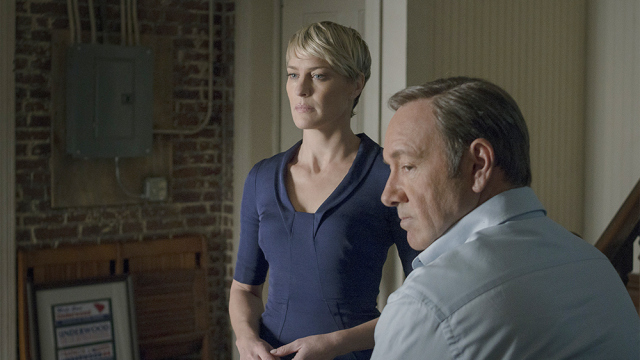 Netflix ha ordenado una tercera temporada del drama "House of Cards," sólo una semana antes de que se estrenara la segunda temporada, confirmó un representante de la compañía.
Tanto Kevin Spacey, quien interpreta el congresista Frank Underwood, y su co-estrella Robin Wright, quien interpreta la esposa de Underwood, están confirmados para otros 13 episodios de la serie, de acuerdo a fuentes cercanas. La producción comenzará pronto en Baltimore, donde se filmó gran parte de la temporada 2.
La segunda temporada de "House of Cards" se estrenará el 14 de febrero, con los 13 episodios disponibles a la misma vez en todos los territorios de Netflix. La primera temporada ganó tres premios Emmy, uno de los ganadores fue David Fincher por su trabajo como director. Wright ganó un Globo de Oro en la categoría de mejor actriz en un drama televisivo.
La serie es una adaptación de la miniserie de BBC del mismo nombre escrita por Beau Willimon.