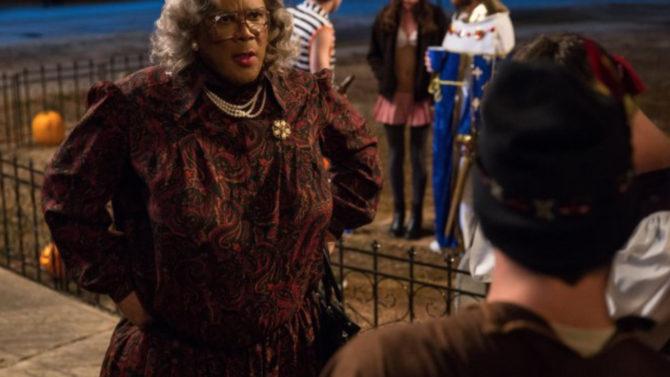 A dos semanas de su estreno en las salas de cine de Estados Unidos, la comedia Boo! A Madea Halloween se impuso nuevamente en la taquilla del fin de semana, superando a Inferno, la nueva cinta de Tom Hanks basada en los exitosos libros de Dan Brown.
De acuerdo a lo reportado por Box Office Mojo, la cinta protagonizada y dirigida por Tyler Perry logró recaudar este fin de semana 17 millones de dólares, acumulando un total de 52 millones de dólares a nivel nacional desde su estreno el pasado 21 de octubre.
VER TAMBIÉN Datos curiosos sobre la película 'Inferno' [FOTOS]
Inferno por su parte quedó relegada al segundo lugar, tras recaudar 15 millones de dólares desde su debut en los Estados Unidos el pasado 28 de octubre. Los números han sido más favorables para el filme dirigido por Ron Howard, a nivel internacional, en donde ya acumula 132.7 millones de dólares.
El resultado en taquilla de Inferno continúa una tendencia que refleja una creciente falta de interés por los filmes protagonizados por el profesor Robert Langdon, de los cuales The DaVinci Code sigue siendo el más popular hasta la fecha. Durante su estreno en el 2006, dicha cinta logró un acumulado de 77 millones de dólares, mientras que Angels & Demons, el segundo filme de la serie, recaudó 49 millones de dólares, durante su debut en el 2009.
VER TAMBIÉN Ryan Reynolds y Jake Gyllenhaal exploran la vida en marte en tráiler de 'Life'
Jack Reacher: Never Go Back ocupó por su parte el tercer lugar de la taquilla, acumulando un total de 9.5 millones de dólares en su segundo fin de semana en cines, mientras que The Accountant ocupó el cuarto lugar esta semana al recaudar 8.4 millones de dólares. Ouija: Origin of Evil se quedó con el quinto lugar esta semana al obtener 7 millones de dólares.
Como dato curioso, la secuela de terror fue la única película de este género que se posicionó entre las cinco más vistas durante el fin de semana de Halloween.