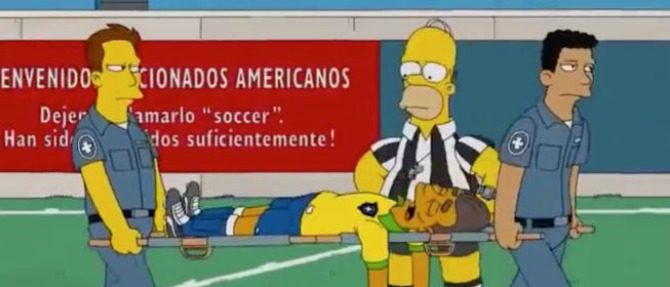 Muchos seguimos sorprendidos e incrédulos que Neymar haya quedado fuera del Mundial tras haber sufrido una lesión en el partido con Colombia el viernes pasado.
Pero tal vez si hubiesemos visto el capítulo "You Don't Have to Live Like a Referee" de "The Simpsons" nos hubieramos preparado para la noticia.
En el episodio dedicado a la locura del Mundial, Homer Simpson se convierte en árbitro para la final de la Copa entre Brasil y Luxemburgo.
Un jugador del equipo brasileño "El Divo" con muchas similitudes a Neymar, tras realizar excelentes jugadas termina abandonando el terreno de juego en una camilla por una lesión (fingida) perdiéndose la gran final.

VER TAMBIÉN: Neymar lesionado, queda fuera del Mundial 
No podemos evitar comparar lo que pasó este viernes 4 de julio cuando el #10 de la selección brasileña se fue del partido por un rodillazo que le dio un jugador de Colombia.
A causa de eso, el brasileño tuvo que salir de la cancha y se perderá la semifinal entre Alemania (y la final si es que Brasil llegara a pasar), noticia que nos parte el corazón.
¡Fuerza Neymar!