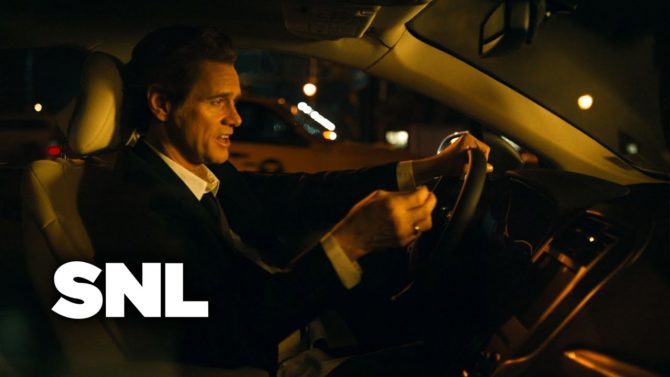 El sábado 25 de octubre se transmitió el episodio de Halloween de "Saturday Night Live" y el host de la noche fue nada menos que Jim Carrey quién abrió la noche cantando como Elvis Presley, vestido como un diablo/ Elvis "Helvis".
El capítulo tuvo momentos muy graciosos, pero sin duda el más chistoso de todos fue cuando imitó Matthew McConaughey.
El motivo de la burla es un comercial de autos para Lincoln donde el actor de "Interstellar" va manejando y reflexionando sobre la vida.
"A veces tienes que ir hacia atrás para moverte hacia adelante" comienza diciendo Carrey imitando la frase con que comienza el comercial, en un perfecto acento de Texas, tal como el actor ganador del Oscar.
"Quiero decir dar un GRAN paso atrás, desde ganar un Oscar hasta hacer un comercial de autos", dice en la parodia el actor de "Dumb and Dumber."
Y finalmente hasta atropella a una persona por estar tan concentrado en sus pensamientos…
Otro de los mejores momentos fue cuando imitó el video "Chandelier" de Sia junto a Kate McKinnon y a ellos se unió nada más ni nada menos que Iggy Azalea quien era la invitada musical de la noche.
Sin duda que también uno de los highlights de la noche fue la reunión de la familia Carrey donde vimos a todos los personajes más icónicos del actor como Ace Ventura, The Mask y al final aparece su compañero de "Dumb and Dumber" Jeff Daniels imitando al comediante.
Recordemos que Jeff Daniels y Jim Carrey están prontos a estrenar "Dumb and Dumber 2" la que llegará a los cines el 7 de noviembre.
Acá puedes ver algunos de los momentos más graciosos de Jim Carrey en Saturday Night Live.
¿Cuál fue tu momento preferido de la noche?