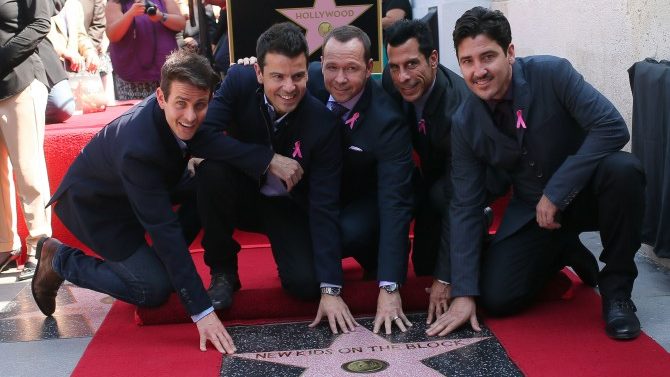 Hoy es un día muy especial para los Blockheads y los chicos de New Kids on the Block ya que recibirán su estrella en el Hollywood Walk of Fame este 9 de octubre de 2014.
Donnie Wahlberg, Joey McIntyre, Danny Wood, Jordan y Jonathan Knight se unieran al club exclusivo de los artistas que han dejado su huella en Hollywood y serán reconocidos como iconos del mundo de la música.
A partir de las 11:30 a.m. PT, tendremos un VIDEO EN VIVO de la ceremonia desde el famoso Hollywood Boulevard donde veremos a los New Kids on The Block recibir su estrella y celebrar su carrera de 30 años.
NKOTB es un grupo de Boston, Massachusetts creado en 1984 por el productor Maurice Starr que encendieron el mundo de la música y encontraron éxito en los '80 con sus hits "Please Don't Go Girl," "You Got It (The Right Stuff)," "Step by Step," "Hangin' Tough" entre muchos más.
Fueron unos de los primeros boy-bands de los Estados Unidos y enloquecieron a las chicas alrededor del mundo con sus baladas y coreografía.
Tuvieron una breve separación en 1994 pero después de una década regresaron por el amor a la música y siguen triunfando.
Síguenos hoy mientras vemos el livestream juntos para ser parte de este gran día para New Kids on The Block.
¡Felicidades chicos por su larga carrera y todo lo que nos han dado a través de los años!