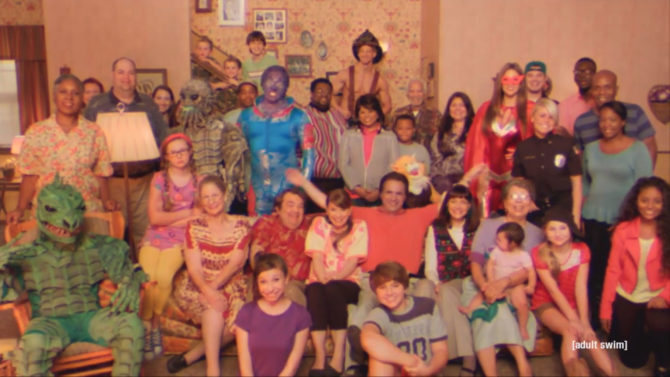 Nadie puede escapar a la fiebre de "Too Many Cooks".
Y si aún no te enteras de qué es esto, aquí te lo contamos.
El canal "Adult Swim" lanzó esta semana el video "Too Many Cooks", el cual es una parodia de las sitcoms de los 70s y 80s.
El video ha sido popular que tiene más de millones de visitas en sólo unas pocas horas.
El clip dura 11 minutos y vemos algo similar al principio de una serie, donde se presentan los actores y con una canción pegajosa vemos a estas personas que representan a cada uno de los típicos personajes de las series de comedia familar. Vemos a la típica adolescente, la abuela, el bebé, los papás etc.
Despues el video va evolucionando y se convierte en dibujos animados y hasta una película de terror.
Este corto fue realizado por Casper Kelly, co creador de otros dos videos para Adult Swim, llamado "Your Pretty Face is Going to Hell" y "Stroker and Hoop,"
Pero sin duda este clip lo llevó a la fama siendo uno de los más comentados en las redes sociales.
"Gracias a todos. La respuesta al "Too Many Cooks" se siente más surrealista que el video en sí," dijo Kelly en su sitio web.
La fiebre de esta canción y video también llegó a las celebridades que comentaron que no se pueden despegar de la pantalla viendo este cómico clip.
Incluso Zoe Deschanel cantó una parte del pegagozo tema junto a @billyeichner
Acá te dejamos el video por si no lo has visto.
¡Cuidado puede ser adictivo!