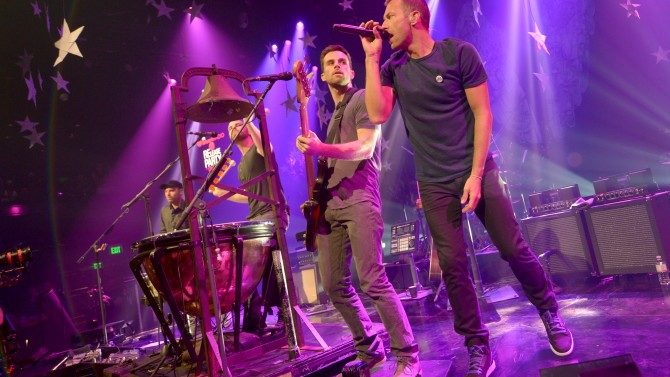 ¡Gran día para los fanáticos de Coldplay!
Hoy se lanza lo nuevo de la banda, "Ghost Stories."
El disco de 9 canciones demuestra lo mucho que Coldplay puede hacer y cuánto han evolucionado como músicos. Chris Martin, Guy Berryman, Johnny Buckland y Will Champion nos entregan un disco fenomenal.
VER TAMBIÉN: Escucha nuevo álbum de Coldplay 
Basada en dos temas principales, "Ghost Stories" explora la idea de acciones pasadas y los efectos que pueden tener en tu futuro y tu capacidad para amar.
"La idea de "Ghost Stories" (historias de fantasmas) para mí, fue 'Cómo dejas las cosas que te suceden en el pasado – tus fantasmas – cómo dejarlos para que no afecten tu presente y tu futuro?" explicó Martin en una entrevista con BBC. "Porque hubo un tiempo cuando me sentía como que mis fantasmas iban a arrastrarme y arruinar mi vida y las vidas de quienes me rodean."
VER TAMBIÉN: Chris Martin habla de su separación con Gwyneth 
Los años anteriores han sido buenos y malos para el vocalista, y es claro que su separación de Gwyneth Paltrow lo afectó mucho. Pero lo bueno es que gracias a sus dificultades es que conseguimos un álbum más real y lleno de inspiración con el cual las personas se pueden relacionar.
Su primer sencillo "Magic" habla de lo difícil que es separarse de la persona que quieres. Aunque ya no están juntos, la canción dice que cuando está con ella, siente como que hay magia, una sensación increíble.
"Call it magic when I'm with you. And I just got broken, broken into two, still I call it magic when I'm next to you."- Magic

http://24.media.tumblr.com/aabff3502484a77d037ce3b06fa02892/tumblr_n5tb8v2ThN1tuf1heo1_500.gif
Mientras escuchas el disco tienes un sentimiento de tristeza por él. Su dolor, su perdida y todas sus emociones se traducen en 9 diferentes canciones.
"All I know is that I'm lost… All I Know is that I love you so, so much it hurts." – Ink
Coldplay tiene una manera de decirte que todo va a estar bien, que tengas esperanza y que puedes superar todos a través de sus canciones.
"I don't care, go on and tear me apart, I don't care if you do, 'Cause in a sky, 'cause in a sky full of stars, I think I saw you." – A Sky Full of Stars
Por eso aquí te traemos las 5 razones por qué amamos a este grupo:
Porque nos dicen que somos lo mejor – "The Scientist"
http://24.media.tumblr.com/tumblr_me1nvqsn1i1rkxuejo1_500.gif
Porque intentan hacernos sentir mejor cuando pierdes a alguien que amas – "Fix You"
http://24.media.tumblr.com/tumblr_m3z459pjEa1rw17odo1_500.gif
VER TAMBIÉN: Chris Martin le dedica canción a Mick Jagger 
Porque entienden que a veces las cosas se ponen difíciles – "The Scientist"
http://31.media.tumblr.com/6d8963a068314664235d06023c8b446b/tumblr_mx3kozpMQB1s5nq4lo1_500.gif
Porque nos dicen que está bien soñar en grande y querer más- "Paradise"
http://37.media.tumblr.com/tumblr_m266qwHW7I1qcc73io1_500.gif
Porque no se toman muy en serio y se divierten
http://37.media.tumblr.com/tumblr_lzo2tjrQ5U1rns2hzo1_500.gif
¿Y tú por qué amas a Coldplay?