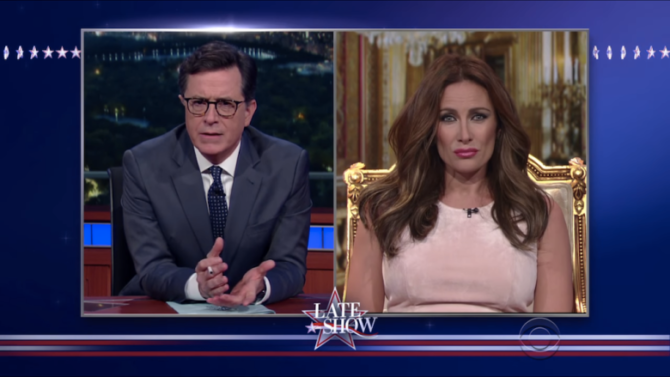 En un nuevo sketch de The Late Show with Stephen Colbert, 'Melania Trump' se entrevistó con el presentador. El motivo, hablar de un tema similar al que discutió la verdadera Melania con Anderson Cooper.
Laura Benanti, la actriz que interpretó a Melania empezó diciendo "quiero que sepas que estamos completamente solos, y no hay nadie en esta habitación", refiriéndose a que supuestamente no tenía personas indicándole qué debía decir.
Al preguntarle si perdonó a su esposo, 'Melania' giró su cabeza en señal de no, pero dijo que sí. Según ella, cuando los hombres americanos se reúnen, les gusta presumir de que le agarran el "Billy Bush" a las mujeres.
"Las mujeres saben que son cosas de niños", agregó. Además, comentó que sin importar cuán amables se ven, todos los hombres son iguales, malhablados, incluyendo a Luke Skywalker y al Papa. "Si tan solo una mujer pudiera ser presidente", concluyó la 'señora Trump'.