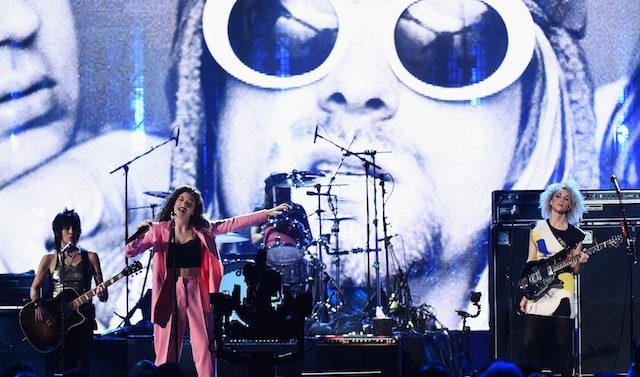 Ayer se celebró la ceremonia de inducción del "Rock and Roll Hall of Fame," noche que estuvo cargada de emoción, especialmente por el homenaje que varios artistas rindieron a Nirvana.
Dave Grohl, Pat Smear y Krist Novoselic fueron los encargados de revivir a la banda de Seattle y de paso rendir un homenaje a Kurt Cobain, por los 20 años de su muerte.
La presentación de la banda estuvo a cargo de Michael Stipe de R.E.M., donde también estuvo la viuda de Kurt Cobain, Courtney Love, quien abrazó a Grohl y a Novoselic y dijo: "Esta es mi familia" y agregó: "Sólo me hubiera gustado que Kurt estuviera aquí. Él lo habría apreciado realmente"
La cantante, también compartió su emoción a través de las redes sociales.
Y como ya se había rumoreado los ex Nirvana tocaron con la gran Joan Jett, la canción elegida fue "Smells Like Teen Spirit"
VER TAMBIÉN: 5 curiosidades de Kurt Cobain (VIDEO)
Pero las sorpresas continuarían porque luego de Joan Jett fue el turno Kim Gordon de Sonic Youth y St. Vincent (Annie Clark). Pero sin duda, el punto cúlmine fue con Lorde quien cantó "All apologies" con todas las rockeras juntas.
"Rock and Roll Hall of Fame" es un museo ubicado en Cleveland, Ohio el cual fue creado en 1983 y desde 1986 realiza la ceremonia de inducción y reconoce a los artistas más importantes de la escena musical.
En esta ocasión además de Nirvana, pasaron a ser parte del salón de la fama Kiss, Peter Gabriel, Cat Stevens, Hall and Oates y Linda Ronstadt.
La ceremonia será transmitida el 31 mayo por HBO, pero por ahora te dejamos el video con la presentación de Lorde.
¿Qué te parece este homenaje a Nirvana?