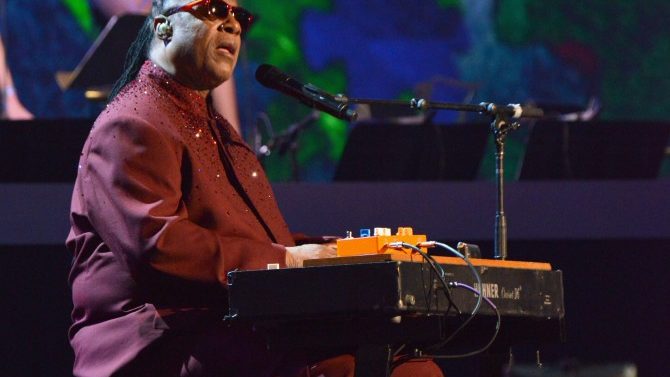 Los fans de Stevie Wonder podrán revivir lo mejor del exitoso álbum, "Songs in the Key of Life."
Se anunció que el legendario músico se va de gira este otoño y sólo tocará su álbum que lanzo en 1976.
VER TAMBIÉN: Usher anuncia fechas de gira 'The UR Experience'
"No será exactamente como el álbum," comentó Wonders de 62 años, ya que las canciones serán presentadas en una diferente orden. "Pero funcionará perfectamente en como se va escuchar."
Conocido como uno de sus mejores discos de su carrera, "Song in the Key of Life" tiene 17 canciones y 4 temas extras en un EP. En ese tiempo era un ambicioso logro para un artista lanzar un doble disco como el de Stevie.
VER TAMBIÉN: Ariana Grande anuncia fechas de gira norteamericana
El increíble álbum incluye sus hits "I Wish," "Sir Duke" y "Isn't She Lovely," que les tenemos aquí para disfrutar.
Su gira "Songs in the Key Of Life" empezará el 6 de noviembre en el Madison Square Garden en Nueva York y terminará el 5 de diciembre en Oakland, California para un total de 11 ciudades.
Los boletos saldrán a la venta el 22 de septiembre vía Live Nations.
Lista completa de las fechas de "Songs in the Key of Life":
Nov. 6 – New York, NY @ Madison Square Garden
Nov. 9 – Washington, DC @ Verizon Center
Nov. 11 – Boston, MA @ TD Garden
Nov. 14 – Chicago, IL @ United Center
Nov. 16 – Philadelphia, PA @ Wells Fargo Center
Nov. 20 – Auburn Hills, MI @ The Palace of Auburn Hills
Nov. 22 – Atlanta, GA @ Philips Arena
Nov. 25 – Toronto, ON @ Air Canada Centre
Nov. 29 – Las Vegas, NV @ MGM Grand Garden Arena
Dec. 3 – Seattle, WA Key @ Arena
Dec. 5 – Oakland, CA @ Oracle Arena
¡Allí los vemos!