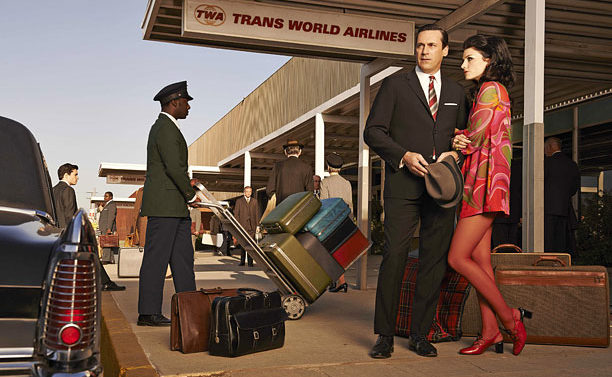 ¡Ha llegado la década de los '70!
Tenemos un mes hasta el regreso de "Mad Men" y ahora nos trasladan a la década de las discotecas, las plataformas y las drogas psicodélicas.
Megan Draper (Jessica Paré) como siempre se ve fabulosa, al igual que Joan (Christina Hendricks), a quien siempre le resaltan los colores vivos.
En una entrevista de E!, Kiernan Shipka, quien hace el papel de Sally, dijo que su estilo va a evolucionar esta temporada.
"Su estilo al principio, parecía como que su madre la vestía y eso es lo que debería ser," dijo Shipka. "Pero esta temporada, parece que ella misma se viste y cada vez un poco más atrevida. Sus faldas se han vuelto más cortas y más cortas a lo largo de la temporada."
Uy, eso no le va a gustar a su papá…
Cómo siempre, Don Draper (Jon Hamm) se ve super sexy enternado, y esta vez lo vemos saliendo de un avion mientras que Roger Sterling (John Slattery) ojea a una chica en el aeropuerto — es bueno ver que ciertas cosas nunca cambian.
De allí vemos a otros personajes, incluyendo a Peggy (Elisabeth Moss ) y Pete (Vincent Kartheiser), dentro de o llegando a un aeropuerto, lo cual va bien con el tema del trailer: "It's all up in the air" [todo está en el aire].
La última temporada estará dividida en dos partes: los primeros 7 episodios, "The Beginning," que se estrenan en abril, y los últimos 7 episodios, "The End of an Era," que saldrán en la primavera del 2015.
Estaremos contando los días hasta el regreso de "Mad Men" el 13 de abril en AMC.
¿Qué quieres ver esta temporada?