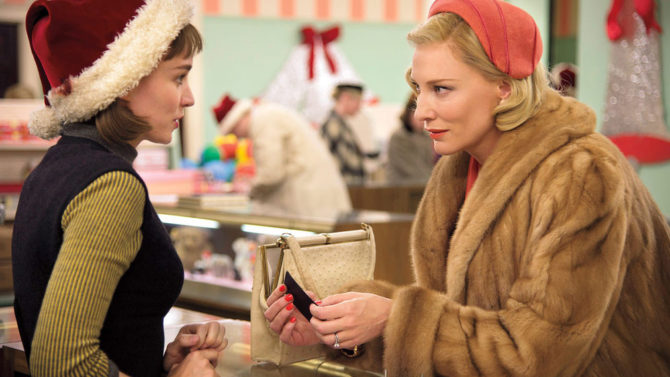 StudioCanal reveló el primer trailer del drama romántico titulado Carol. La película está dirigida por Todd Haynes (Far From Heaven, I'm Not There, Mildred Pierce) y la protagonizan Cate Blanchett y Rooney Mara. Este proyecto es una adaptación de la novela The Price of Salt de Patricia Highsmith.
El teaser comienza con lo que parece ser el primer encuentro entre Carol (Blanchett), una mujer rica atrapada en un mal matrimonio, y Teresa (Mara), una joven de 20 años que trabaja en una tienda de ropa. Justo después de esta introducción entre las protagonistas se puede escuchar la canción "My Foolish Heart", la cual decora el resto del trailer. Esta banda sonora es perfecta para musicalizar el adelanto de esta interesante y elegante cinta que se desarrolla en 1950 en la ciudad de Nueva York.

La película recibió excelentes críticas en el Festival de Cine de Cannes 2015. Mara se llevó el premio a mejor actriz en este evento.

El elenco lo completan Sarah Paulson (American Horror Story), Kyle Chandler (Super 8), Jake Lacy (Obvious Child), Cory Michael Smith (Gotham), John Magaro (Orange is the New Black) y Carrie Brownstein.
El filme se estrenará en Estados Unidos el 20 de noviembre.