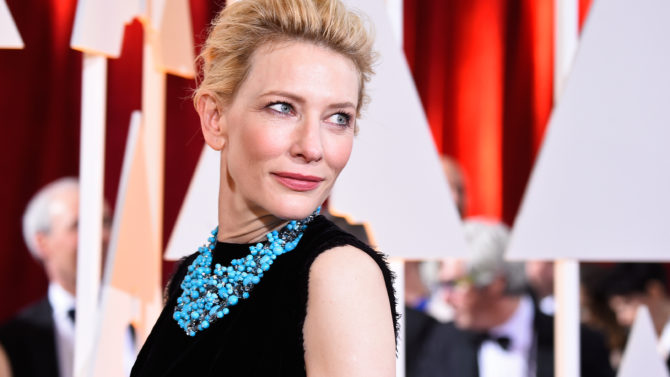 Desde su preocupación por unirse a las redes sociales hasta sus relaciones pasadas con mujeres, Cate Blanchett hizo varias confesiones a nuestro sitio hermano, Variety.
Mientras conversaba sobre su próximo película Carol -la cual debutará en la edición número 68 de Cannes- en la que interpreta a una mujer lesbiana, la actriz confesó haber mantenido relaciones con mujeres en el pasado pues cuando se le preguntó si era su primera vez como lesbiana, Blanchett contestó: "¿en la pantalla grande o en la vida real?"
Aunque no elaboró su respuesta admitió haber estado en relaciones con otras mujeres "muchas veces" y dice que nunca le ha gusta "etiquetar" a alguien por su orientación sexual.
En la película, el personaje de Blanchett se enamora de Therese Belivet  (Rooney Mara, The Girl With The Dragon Tattoo).
La ganadora al Oscar también explicó que no fue fácil llevar a la pantalla grande esta historia basada en el libro de 1952 "The Price of Salt" de Patricia Highsmith, no por nada ningún cineasta había decidido tocar la novela de la escritora detrás de las no menos controversiales The Talented Mr. Ripley y Strangers On A Train.
"Es difícil financiar películas donde las mujeres sean el tema principal. Hay muchas personas que trabajan con el pensamiento de que la gente no querrá ver ese tipo de filmes, y eso no es cierto".
En cuanto a su opinión sobre las redes sociales, Blanchett explicó que nunca se unirá a Twitter ya que teme caer en un centro de rehabilitación. "Esas cosas son adictivas" dice Blanchett.