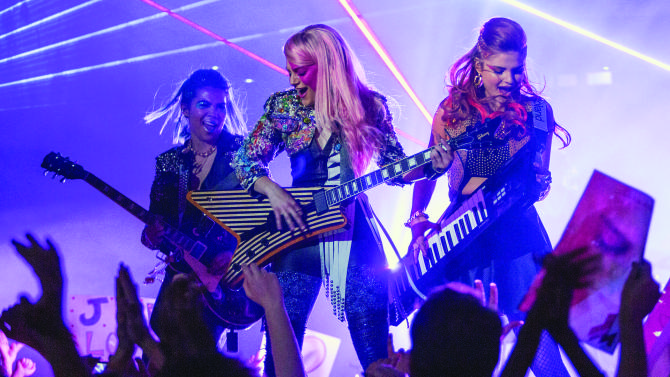 Universal Studios compartió el segundo trailer oficial de Jem and the Holograms. Este adelanto revela un nuevo y tecnológico personaje. Se trata de un pequeño robot que proyecta imágenes de la infancia de las cantantes. Este avance también confirma que la adaptación fílmica de este dibujo animado es completamente contemporanea y no está ambientada en los años 80. Fue en esta década cuando el programa de TV que inspiró esta cinta estaba en completo auge.

VER TAMBIÉN ¿Quieres ser parte de 'Jem and the Holograms' junto a Ryan Guzman?
La historia gira en torno a Jerrica Benton (Aubrey Peeples), una joven que vive una doble vida. En el día es una mujer de negocios encargada de una compañia disquera y de un orfanato. De noche se convierte en Jem, la lider de la banda de rock conocida como Jem and The Holograms.

El elenco lo completan Aurora Perrineau, Hayley Kiyoko y Stefanie Scott. La representación latina corre a cargo de Ryan Guzman en el papel de Rio, el novio de Jem y manager de la agrupación.

Jon M. Chu es el director de la película. Los productores son Jason Blum, Scooter Braun, Bennett Schnei, Brian Goldner y Stephen Davis de Hasbro Studios.
Jem and the Holograms se estrenará el 23 de octubre.