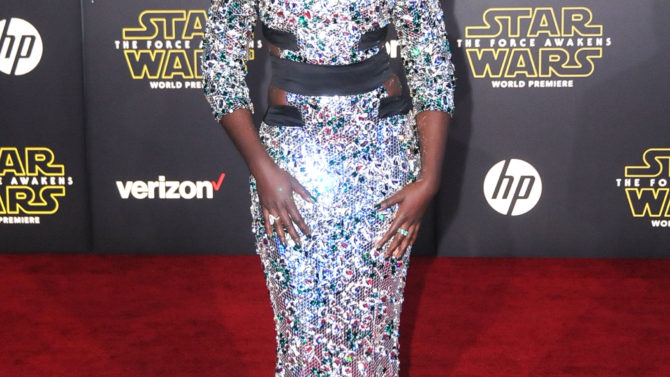 Lupita Nyong'o llegó al The Ellen DeGeneres Show este martes para promocionar su nueva película, Star Wars: The Force Awakens. Durante su entrevista, la actriz reveló que no se dio cuenta que estaba audicionando para un papel en la muy esperada secuela.
Nyong'o aseguró que se sorprendió cuando el director J.J. Abrams la llamó unos meses después para ofrecerle el papel de Maz Kanata, un extraterrestre pirata.
La actriz confesó que cuando audicionó lo único que sabía era que el papel era para una película dirigida por Abrams. Para la audición, que se llevó a cabo en 2014, la histrión leyó de un guión sustituto y no le fueron revelados detalles del proyecto hasta que obtuvo el papel.En ese entonces, Nyong'o acababa de ganar el Oscar por su trabajo en 12 Years a Slave, por lo que tenía una agenda muy agitada.
"Supongo que pensé que debía encontrar trabajo, ¿sabes?", Nyong'o bromeó con Degeneres. "Estaba tan ocupada que estaba trabajando con mucha adrenalina, así que entré y salí. Apenas recuerdo esa audición, y luego, dos meses más tarde, [Abrams] me llamó".
Para interpretar el personaje de Maz Kanata, Nyong'o tuvo que usar tecnología de captura de movimiento durante el rodaje, lo que requiere un proceso de aplicación que se toma entre 45 minutos y dos horas y media, explicó la actriz.
La séptima entrega de esta franquicia —cuyo elenco está compuesto además por Harrison Ford, John Boyega, Oscar Isaac, Daisy Ridley, Adam Driver, Carrie Fisher y Mark Hamill, entre otros—, llega a los cines el 18 de diciembre.