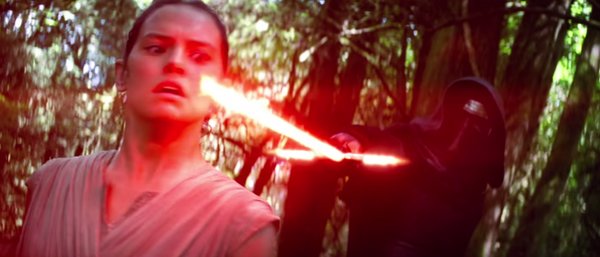 Justo a tiempo para el Día de Acción de Gracias, los productores de Star Wars: The Force Awakens publicaron un nuevo clip para que los fans de la cinta tuvieran algo más por lo que estar agradecidos este año.
El video de un minuto de duración, que lleva por título "All the Way", fue publicado en la página oficial de Facebook de la esperada película. Este adelanto oficial también servirá de clip promocional para la televisión. Para poder verlo, haz clic aquí.
Como es de esperarse, el clip está repleto de acción, batallas, mucho humo y explosiones. En éste, se escucha al personaje interpretado por Andy Serkis, el Líder Supremo Snoke, decirle a Kylo Ren: "Inlusive tú no habías tenido que enfrentar un reto como este".
Este martes 25 de noviembre, la Asociación Cinematográfica de Estados Unidos, mejor conocida como la MPAA, declaró que esta película estaría clasificada como PG-13.
Star Wars: The Force Awakens tendrá su esperado estreno mundial el próximo 18 de diciembre. Esta nueva entrega de la saga de culto estará dirigida por J.J. Abrams.