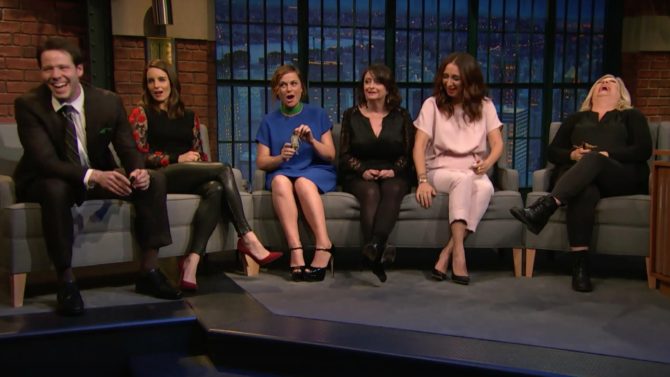 Tina Fey y Amy Poehler tuvieron la mala fortuna de que su película se estrenara el mismo día que Star Wars: The Force Awakens. Debido a este infortunio las actrices, junto al elenco del filme, fueron al Late Night with Seth Meyers, donde tuvieron la oportunidad de promocionar la comedia de una forma muy original: usando juguetes de La Guerra de las Galaxias.
El primero en hablar fue Ike Barinholtz quien tomó una figurita de Kylo Ren, el villano de la nueva entrega de Star Wars, interpretado por Adam Driver, diciendo: "¿Para qué quieren ver a un tipo que sale en Girls si pueden ver a uno que sale en Mindy Project?".
Luego le tocó el turno a Fey quien inventó que PZ-4CO era italiano: "Soy una criatura, no tengo parientes, pero si los tuviera tendría dos hermanas", sentenció.
Poehler ni siquiera recordó el nombre de la figura de acción que le tocó sostener y gritó: "No me importa Star Wars. Lo siento, estoy cansada de pretender, ¡no me importa!".
Por otro lado, Rachel Dratch dijo "Vayan a ver a Sisters" tratando de imitar la voz de Chewbacca. Finalmente le tocó el turno a Maya Rudolph quien hizo su mejor imitación de BB-8.
Acá les dejamos el gracioso video: