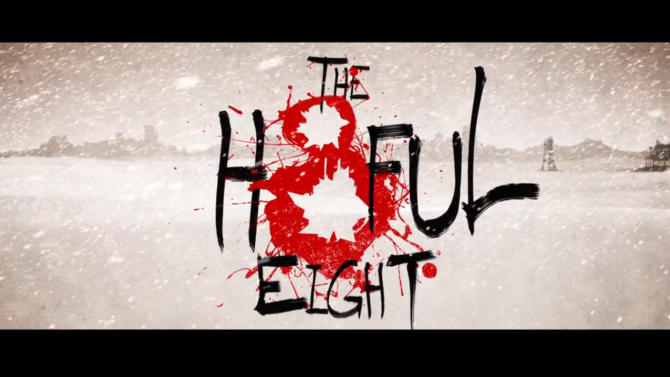 "Ocho extraños quedaron atrapados en Wyoming por una tormenta de nieve y muy pronto descubren que comparten una conexión que involucra la muerte", así empieza el trailer oficial de la nueva producción de Quentin Tarantino.
Luego de introducir a las ocho personas que buscan sobrevivir en medio de engaños, aparece el título de la cinta The Hateful Eight ¡manchado de sangre! Entre los personajes que están involucrados en esta lucha de sobrevivencia tenemos a "The Bounty Hunter", "The Hangman", "The Prisioner", "The Sheriff", "The Mexican", "The Little Man", "The Cow Puncher" y "The Confederate".
¡Y aunque en este clip no vemos a ninguna de esas ocho personas, igual el trailer nos deja intrigados!
The Hateful Eight cuenta con un elenco de primera pues entre los actores que interpretan a los ocho extraños están Channing Tatum, Demian Bichir, Samuel L. Jackson, Kurt Russell y Jennifer Jason Leigh. La cinta del cineasta aún no tiene fecha de estreno exacta aunque en el póster y trailer dice que llegará en otoño de este año.
Cabe mencionar que la cinta casi no llega a la pantalla grande luego de que se haya filtrado el guión el año pasado, ¡pero por fortuna eso no detuvo a Tarantino de llevar su peli a las salas de cine!