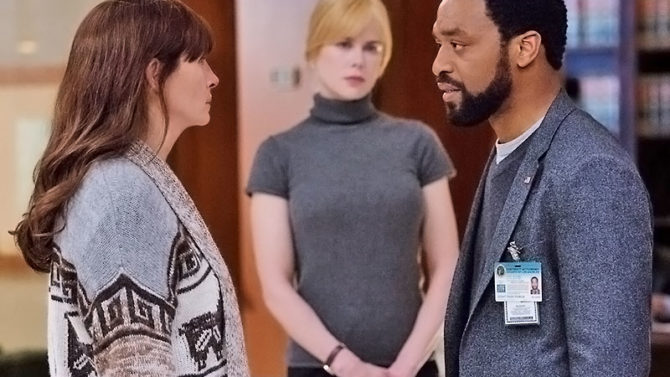 The Secret in Their Eyes acaba de estrenar tres nuevos pósters con los rostros de sus estrellas principales: Nicole Kidman, Julia Roberts, y Chiwetel Ejiofor.
VER TAMBIÉN Estrenó el trailer de 'Secret In Their Eyes' con Julia Roberts y Chiwetel Ejiofor
En estos nuevos afiches promocionales los ojos de los tres protagonistas están tapados por un listón negro que contiene el título de la cinta.
The Secret in Their Eyes es el remake norteamericano de El Secreto de sus Ojos, largometraje de origen argentino dirigido por Juan José Campanella, que se llevó a casa el Oscar a Mejor Película Extranjera en 2010. La cinta cuenta la historia de un equipo de investigadores del FBI (Kidman y Ejiofor) cuya vida da un giro inesperado cuando se entera que la hija de su fiscal de distrito (Roberts) ha sido brutalmente asesinada. Es entonces cuando la sed de venganza y los obstáculos de la burocracia embarcarán a todos los involucrados en una emocionante encrucijada.
El filme está escrito y dirigido por Billy Ray, quien sirvió como guionista de importantes cintas como Captain Phillips (2013) con Tom Hanks y el primer capítulo de The Hunger Games (2012).
The Secret in Their Eyes llega a cines este 23 de octubre.