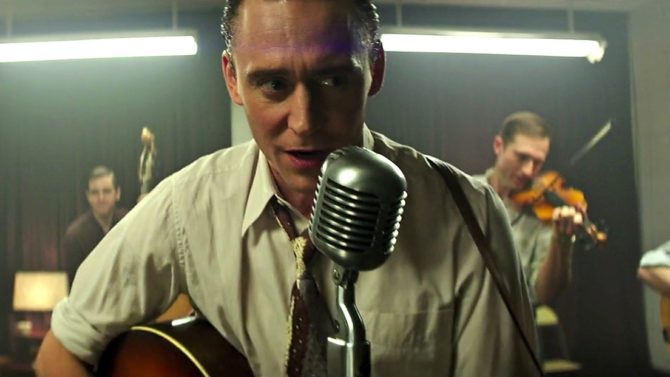 Sony Pictures Classics compartió el primer tráiler de la película biográfica de Hank Williams titulada I Saw the Light, filme protagonizado por Tom Hiddleston.
El adelanto, que fue publicado cuatro meses antes del estreno del largometraje, comienza con una cita de Williams que dice: "La gente no escribe música, esta llega a ellos".
El clip, que incluye canciones clásicas de Williams como "Hey, Good Lookin'" y "I Saw the Light", le da un vistazo al ascenso a la fama del cantante quien tuvo que lidiar con un matrimonio lleno de infidelidades y una vida opacada por el abuso de sustancias.
La película fue escrita y dirigida por Marc Abraham y está basada en la biografía sobre la carrera de este querido cantante elaborada por Colin Escott, George Merritt y William MacEwan.
Según reportes, Hiddleston es quien canta las canciones de Williams en la película así como Oscar Isaac hizo en Inside Llewyn Davis.

Elizabeth Olsen, Bradley Whitford, David Krumholtz y Cherry Jones completan el elenco. Brett Ratner y Aaron L. Gilbert producen la película, mientras que G. Marq Roswell, Abraham James Packer y Jason Cloth son los productores ejecutivos.
I Saw the Light se estrena el 25 de marzo 2016.