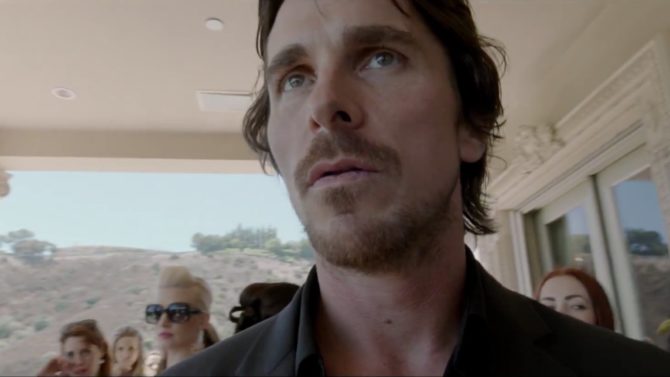 El primer tráiler de Knight of Cups le da un vistazo a la vida de Rick, un guionista interpretado por Christian Bale, quien a pesar de tener una exitosa carrera en Hollywood, vive rodeado de soledad, excesos, y atormentado por un pasado manchado por la muerte de su hermano.
Nancy (Cate Blanchett) y Elizabeth (Natalie Portman) interpretan a dos mujeres con las que Rick ha mantenido una relación amorosa turbulenta y a quienes lastima en sus momentos de ira y depresión.
Aquí tienes el dramático avance de esta cinta:
La película está escrita y dirigida por Terrence Malick (The Tree of Life) y cuenta con un elenco que incluye a actores de alto nivel como Antonio Banderas, Ben Kingsley, Joe Manganiello, Wes Bentley, Teresa Palmer y Freida Pinto.
Bale también podrá ser visto en otras películas como The Big Short donde comparte créditos con Ryan Gosling, Brad Pitt y Steve Carrell. Otros proyectos que cuentan con su participación son The Promise, Enzo Ferrari y Jungle Book: Origins.
Knight of Cups se estrena en cines el 4 de marzo de 2016.
¿Qué te parece el primer adelanto?